We'd argue that the best thing about social media is its power to create connection across geographical boundaries. Heck, that's our favorite part of the internet. (Well, and gifs. And the ability to learn like, anything that we want. But we digress.)
Thanks to tools like Google Meet and Zoom, and Facebook Live video and shared streaming tools, we're able to stay in touch with our friends, family and industry peers really easily.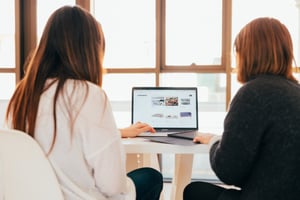 Staying in touch and having meaningful conversations is important. It's how we stay connected and stimulated and so it's no surprise that one of our favorite, consistent practices is our Magnet Marketers show.
Hosted by Jessika Phillips and Mike Gingerich, this weekly, live, Tuesday training is all about providing information in a digestible and relatable way. Some weeks it's just Jessika and Mike, rocking the show alone and diving into a topic like Self-publishing or some weeks they're joined by special guests to discuss LinkedIn Ads, website user experience, live streaming or holiday ad campaign strategies, to name a few.
And this show has really evolved over the years. What started as a Live Training Show on Blab, moved over to BlueJeans and then BeLive. Remember those platforms!?
Now, we use a nifty tool called StreamYard. Yet one thing has remained consistent: showing up with the insights and how-to's every business needs to be a magnet vs a bullhorn.
We are all about drawing our audience in with permission-based, and relationship-focused tactics vs. old school interruption bullhorn methods.
It's hard to pick which episode has the most value when they're all so jam-packed. And over the course of the past 10 years, these lessons have become pivotal for us to learn as marketers.
So we figured, why not wrap up 2020 by featuring some of our favorite episodes of the decade:
Let's be honest, it can be a tough decision to choose a marketing agency. When it comes to having social handles for our business, we essentially have three options: hire a full-time, in-house, manager, add social onto a current employee's roster, OR look outside of the business and hire an agency.
This episode is ALL about the questions that need to be ask when planning to hire a social media manager or agency. Because when it comes down to it, it's no longer an "if" when it comes to social media - it's a "how."
We have to find somebody who understands our core values and ideals for this role. And while it's not a quick task, it's critical to take the time to thoroughly interview individuals and agencies to ensure that we've got the RIGHT fit.
---
Thinking of building a new website or revamping an old one? This episode from 2015 is filled with tips that, believe it or not, are still completely relevant today! (We also love traveling back in time to see just how much our Training Tuesday show has evolved.)
When starting to plan for a new website, our biggest question that we recommend asking is: what do we want to offer? It's all about mapping out what we want to give our potential customers that are visiting us on the site.
We create a sitemap that details what's being covered on every single page on the site. It's not sexy, but it's critical to ensure that the site delivers on what's TRULY important from a functionality standpoint. Ideally, we want our websites to clearly show the problem that we exist to solve and who we are here to solve it for.
---
This episode is all about the importance of buyer personas. A buyer persona is a semi-fictional representation of who your ideal customer is - who your key demographic is that you'd like to reach out to.
When we define our buyer personas, we have the ability to craft content that is particularly relevant and interesting to them. When creating these, it's about WHO these people are: how old are they, what do they care about, what sites do they visit, what are their pain points?
When creating a marketing strategy, buyer personas really should be the first step.
It's all about taking the time to sit down and figure out exactly who we're trying to speak to and utilizing messaging that aligns with that persona. The buyer persona allows us to craft content and offers that are super specific to that person. THAT is what allows us to become a magnet rather than a bullhorn.
When we start asking questions about the people we're trying to reach, we have the ability to really narrow down on WHO they are and how we can show up in a way that is helpful and useful for them.
---
This episode is back from the days when our show was on Blab, but the tips and advice shared remain true today.
When looking into partnerships, it's all about taking the time to find a good fit.
For us, we have clients go through a discovery questionnaire so that we get a better sense for whether we're aligned to work together based on our mission, vision and values. By doing our due diligence ahead of time, we can avoid a lot of costly mistakes when it comes to doing business with someone who isn't a good fit.
We talk about how to handle situations if we're being asked to deliver services that just aren't our forte, and how to end relationships on a good note. It's all about creating a mutually-beneficial relationship.
---
This episode was all about why creating a brand manifesto is so critical.
A brand manifesto is the "soul statement" of your brand. It's your declaration to the world. It's about who you are, what you're here to do and whom you're here to do it for. This is the emotional side of our brand and by creating this statement, clients can start to really understand who we are.
It's because of a manifesto that we're able to get clear on our core messaging and who we want to target.
Our blog dives deep into why this is so important and how we use our brand manifesto daily.
---
This episode was especially topical given the pandemic. We sat down with Angus Nelson who dove into how to overcome your inherent fear of failure. We also got into mindset strategies for how to actually follow through with change and create an abundance mindset that allows us to live generously.
This episode is all about mindset and how it makes the biggest difference. Because the truth is that it is in moments of crisis that we most need to keep our wits about us.
As leaders, we need to be able to breathe and take a second to think clearly about what the best next step is. This one is filled with tangible takeaways for all of us that couldn't be more applicable than they are today!
---
Okay, for weeks it seemed like everyone was talking about The Social Dilemma. So you bet we made it a point to sit down and share our thoughts!
We discuss mental health and the impact that social media has on it; fake news and what our responsibilities are as brands.
If you enjoyed the Netflix documentary and are eager to hear our take on what it really means for brand and individual responsibility, you're going to love this episode!
---
This may have been an episode from 2019, but we had to include this one because of how valuable and topical the content is. This episode was all about the new rules of marketing.
H2H means human to human; it was coined by the OG of H2H, Bryan Kramer. And given that we are all about relationship marketing, this theory aligns perfectly with our beliefs of what works in marketing.
We dive into where we think marketing is heading, and how to add more humanity to your efforts, in our blog post.
---
It's always a fun time whenever Andrew + Pete are involved and this episode of Magnet Marketers was no different. We cover how to create shareable content, beat algorithms and create fans.
We dive into the acronym BEACH which stands for: Brand advocacy, Emotion, Appearance, Cause and beliefs and High-value.
Our detailed blog post breaks each letter down and what they mean. So, if you want to learn more about WHY people share content and how you can step up your game to create content that is more shareable, you're going to want to check this episode out.
---
Given our love of relationship marketing, it should come as no surprise as to why this is one of our favorite episodes. Jessika and Mike dive in deep about what the real difference is between marketing, relationship marketing and advertising.
This one is packed with value because this truly is a topic that we could spend all day long talking about.
We talk all about magnet marketing, branding, what advertising really is, and why not all marketing is created equal.
If you're an inbound marketing geek like us, you'll appreciate our deep dive into how it's different, and complimentary, to relationship marketing.
---
This was a really fun one to dive into! We were joined by Tony Christensen to talk ALL about the bad agency tactics that you definitely want to avoid.
Our reason for this episode was all about trying to help others break down the red flags to watch out for when it comes to looking for a new advertising agency.
When it comes down to it, it's all about asking the right questions.
---
We all know that growing and building a business requires strategy and passion. There is a lot of grit and sleepless nights involved.
The other crucial element? A sense of belonging amongst your team. A culture that fosters and empowers growth.
And we all know the best corporate culture is built from the inside out.
What made this episode special was being joined by one of the most energetic culture advocates located in our hometown of Lima, Ohio - Brain Garver, VP of Sales and Marketing for KeyBridge Medical Revenue Care.
Brian's excitement is seriously contagious when it comes to speaking about patient experience and building strong, highly effective teams. Our blog breaks down how you can get started creating a strong culture of people with the right vibe.
---
Today's social media manager needs to be a strategist; a photographer; a story-boarder; a writer; a videographer and a community manager. It's a LOT.
That's why we love this episode which covers how the role of a social media account manager has evolved over the past two years.
It's all about examining just how MUCH has changed and what the important skills and qualities are to look for when hiring to build out your social team.
When it comes to hiring, it's all about finding people with passion, adaptability and a hunger to learn. We dive into all of it in our blog.
---
As a fun way to end the year -- and start looking ahead to 2021 -- our last Magnet Marketers episode of 2020 was a special one. We brought in some of our favorite (and yours) marketing super smarties to share their 2021 predictions on how to build a craveable brand.
Jessika Phillips and Mike Gingerich were joined by Ross Brand, Nicole Tate, Brian Fanzo, Judi Fox, Jennifer Watson, Christine Gritmon, Troy Sandidge, Tony Christensen and Kate Volman - who shared their takes on what the biggest shifts and opportunities are for brands in 2021.
The biggest takeaway? >>> Make things more human.
---
For 10 years our goal has been serving, not selling and we don't plan on slowing down anytime soon!
We go live online every Tuesday at 4 pm EST and offer a recap blog on our website so you can have everything you need to grow your business right at your fingertips!
If you're interested in getting a "heads-up" reminder of the show topics and recap blog - feel free to join our email list.
We also love hearing from you: What online marketing topics you would like us to discuss? Let us know in the comments below!