LinkedIn has a reputation for being the most professional of the social media platforms. It's for this reason that it's imperative that both brands and individuals be well-versed in how to use the platform to generate awareness and establish their expertise.
LinkedIn is known as the place to showcase one's expertise, contribute meaningfully to topical conversations and build relationships, to name just a few.
How do you get started enhancing your LinkedIn presence? Who are the best thought-leaders to follow on the platform?
We're breaking it all down for you today so that you can start to see more success with your LinkedIn efforts.
Best Practices on LinkedIn:
In order to use LinkedIn to its fullest, and build your connections thoughtfully be sure to follow these best practices for the platform.
LinkedIn Best Practices:
Have a professional profile: Your profile is where you put your best foot forward, which means you want to have a professional, high-quality headshot and cover photo. A

professional profile

looks AND reads well, meaning you have to spend time going through the various informational fields that LinkedIn provides. Fill in your work experience and skills, add certifications, volunteer roles and samples of your work… all of these help you stand out and showcase what you have to offer.
Optimize Your Profile: Company pages are SEO-friendly which means you want to include important keywords and phrases for the description of your company page. This rich description will help you get found in search on both Google and LinkedIn! When building your LinkedIn company profile, make sure to add relevant hashtags to help others find your brand. LinkedIn has a streamlined set-up process company pages with an easy step-by-step flow to make sure you are fully optimizing your profile.
Customize Your URL: One simple but super nice feature within LinkedIn is the ability to customize your URL for your profile. This is super easy to create and makes your profile not only easier to find but much more credible. This is an option for both personal and company profiles.
Share your expertise: Social media is an avenue to establish your expertise online. By sharing your thoughts and contributing to conversations on LinkedIn, you can start to drive more awareness for your personal brand and your company. Similarly, this helps to position yourself as a credible expert in the industry. There are so many ways to share your expertise, whether it is writing articles on the platform, contributing to conversations in groups, and/or posting educational videos. LinkedIn is an excellent channel to showcase examples of your work and feature portfolio items, like speaker reel videos, how-to, or product videos!
Spend Time Endorsing: Growing your network is one of the best things you can do on LinkedIn, and actively engaging with others is how you can do that. Spend time endorsing the skill sets of others and/or leaving them written reviews that they can display on their profile. This helps to further establish your connection with someone and makes it more likely that they will take the time to endorse you and your skillset. Also, don't be shy about asking for recommendations. Often, we aren't going out of our way to recommend someone, however, if someone asks us for their endorsement, we're happy to share our thoughts. Use the platform to its fullest by tapping into all of these features that will help you grow clout on the platform.
Post Consistently: Whether you're using LinkedIn as a brand or individual, showing up consistently is key. Posting a mix of media content (photos, videos, and links,) will help you stand out and keep your content diverse. Pro tip: aim to include a piece of media with every post you make, as images generally result in a 98% higher comment rate.
Use Hashtags Sparingly: Hashtags were introduced to LinkedIn in 2018, giving users the ability to reach more people with their content. However, you don't want to go hashtag-crazy on this platform because it comes across as spammy and unprofessional. Use 1-3 relevant hashtags for your post as a way to drive more eyeballs without coming across as overly promotional.
Check Analytics: Tap into analytics on LinkedIn to assess how your content is performing as well as who your audience is. See which posts are driving the most engagement and clicks so that you can constantly improve and enhance your strategy to post more of what works and less of what doesn't.
Encourage Engagement: As a company, you can encourage engagement from your team by using the "Notify Employees" button when you make a post. When you click this, everyone on your team internally will get a notification that the post was made, which makes it super easy for them to engage with it. We all know that the more engagement a piece of content gets, the better it performs. Encourage your team to not only like a certain post, but share it within their newsfeed as they are likely aligned with connections that would find value in your content. As a company, it's a no-brainer to start using this feature to drive more team engagement!
Personalize Your Messages: Whether you're using the platform as a brand or individual, social media is all about being social. Don't send spammy generic direct messages to people to connect; they won't lead you anywhere. Instead, be thoughtful about who you invite to connect with you and take the time to create a personalized outreach message. This will kickstart the relationship with the right foot!
Want to see these platform best practices in action? Let's dive into some strong examples of companies that walk the talk.
LinkedIn Leaders To Follow:
There are so many leaders in the industry that are worth following because they share incredible content and inspire you to think outside of the box. By following their lead, you'll find that it helps to spark ideas for you and your brand.
Here are our favorite companies/brands and individuals to follow, plus an example of why below:
As a LinkedIn Business Coach, it's safe to say that Judi knows a thing or two about how to best utilize LinkedIn to drive awareness, showcase expertise and establish relationships.
One of the many things that we love about Judi's profile is her cover photo, which she uses to immediately establish credibility.
By showcasing all of the different media outlets she has been featured in, she shows that she is knowledgeable in the industry.
This is a great way to capture attention while also showcasing what you're an expert in!
Tip For You: Create an eye-catching cover photo that helps to showcase your expertise, offerings and/or unique value proposition.
Jaime Cohen is a LinkedIn expert and we love to follow her because she is a wealth of knowledge on the platform.
One of the many things that make Jaime's profile so strong is her about section. Not only does Jaime use emojis and capslock to help break up the text, but she is crystal clear in what she offers, where she offers it, and who she offers it for.
Reading through her about section leaves you understanding how you can work with Jaime, why you'd want to work together, and where you can do to start the process.
Tip For You: Spend time creating a keyword-rich "About" section that lets people know what you do, who you do it for, why you do it, and how they can learn more.
AJ is a LinkedIn Ads expert and public speaker that we love following because he inspires us to stay up-to-date with the latest changes in best practices for paid ads on LinkedIn.
Not to mention, he serves as a great example of how to utilize LinkedIn's skills and endorsements sections to truly showcase the specific skills you want to best be known for.
AJ's top three skills are not only highly recommended by a number of his peers, but these three skills can specifically be found in his title and reflected through his cover photo art on his profile.
Tip For You: Use the title AND skills and endorsements sections of your profile to showcase the specific areas you want to be known for.
Sugarwish, an online candy store, does an excellent job with its content on the platform.
While they definitely do post about their offerings, they also make it a point to shine a light on the loyal and happy customers they have, like us!
We have raved about Sugarwish in many blog posts, and the fact that they take the time to share these posts and turn them into unique content for their brand is brilliant.
This kind of user-generated content drives more engagement AND helps position the brand as credible because fans are sharing and talking about it.
Tip For Your Brand: Share the content that your fans create about you and be sure to tag them whenever you do! This helps strengthen your relationship.
It should come as no surprise that just like with all platforms, Gary Vee rocks LinkedIn - especially when it comes to publishing articles.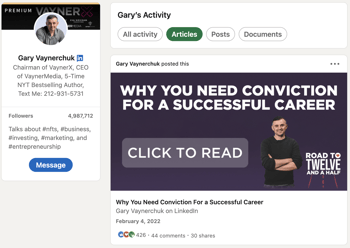 While Gary obviously has the benefit of having a team to help, he stays active across every major channel and puts out quality article content on a consistent basis with great-looking cover photos.
By doing this, Gary continues to showcase his expertise and knowledge in the industry. Gary leans into all of the functionality across all of his social media entities as a way of truly giving his fans a reason to follow him everywhere. That is truly how you build a powerful personal brand.
We have to shout out our very own Jessika Phillips as someone who also does an exceptional job when it comes to personal branding on LinkedIn.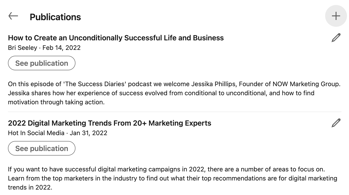 Jessika does a great job of tapping into the various profile sections to showcase her expertise. You can see that her publications section is updated to show the latest articles that she's been featured in.
Pro tip: Utilizing the publications section is a fantastic way to build credibility that everyone should be tapping into!
She is always leaning into new features and functionality. In fact, she was the first person on our team to discover a new LinkedIn feature: Cover Stories. These stories allow you to add an introductory video that never expires onto your LinkedIn profile.
Jessika used it in the best way possible: to reinforce her mission of Love More, Give More, Be More. When you visit Jessika's profile, this video plays immediately before showcasing her headshot as her profile photo.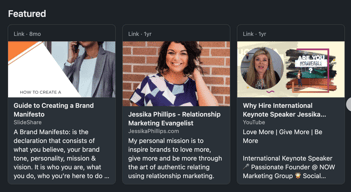 Fully optimizing her profile she included featured items to showcase capabilities, offer helpful guides and resources, and testimonial highlights from her community. These items could be blog links, featured articles or video content so be sure to let your profile shine by building out your "Featured" highlights.
Putting It All Together:
LinkedIn is a powerful tool for connecting with other professionals and establishing your credibility in your industry.
By following these 10 best practices, you can create a strong profile that speaks to the value that you have to offer potential clients or employers.
With over 500 million users, and constant updates to its functionality and features, LinkedIn is an essential platform for digital marketers who want to stay ahead of the curve. Taking advantage of the wide array of opportunities present is how you can continue to drive awareness and build relationships on the platform.
What do you love most about LinkedIn? Are you planning to start using the platform more this year? Do you have a best practice that you'd add to our list?
We'd love to hear your thoughts!