If you're like most small business owners and entrepreneurs, you're always searching for new and innovative ways to reach more people and grow your influence.
This is where LinkedIn comes into play.
With 830+ million members across 200 countries, it's clear that LinkedIn is one of the best platforms for growing your professional network. And with Creator Mode, LinkedIn is making it easier than ever for both individuals and brands to up their game on the platform.
So, how can you start to tap into the wide array of features and functionality on the platform?
We invited our friend and #SMWL22 speaker Kate Paine to join Jessika Phillips and Mike Gingerich on Magnet Marketers to dive into the topic in-depth and share her expertise on LinkedIn's Creator Mode.
What Is Creator Mode:
Creator Mode is a new feature/profile setting on the LinkedIn dashboard that can be used to grow reach and influence on the platform.
It was launched about a year ago, has evolved tremendously in its power, and is now accessible to all 830 million members of LinkedIn.
By turning on Creator Mode, individuals get access to additional tools and features that help with content creation and audience growth.
Let's dive into the major features that Creator Mode Offers:

LinkedIn Live:
This might be the most powerful of the features, as live video is one of the best ways to grow your audience and influence.
LinkedIn Live used to be something you had to get special access to, but now it's available to everyone who turns on Creator Mode!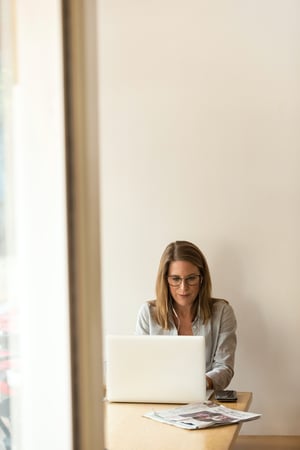 Things to note about LinkedIn Live:
You need a third-party app to stream, such as Streamyard, Restream or Vimeo to name a few.
Depending on the level of subscription you have with that streaming tool, you likely have the ability to stream your live video to more than just LinkedIn. You can stream it on Facebook and YouTube like we do for Magnet Marketers!
The most important thing to note when it comes to launching live video of any kind is to be strategic and thoughtful about how you use it.
"With LinkedIn Live, you need to decide if you're doing talking head videos or doing a show. Think about your goals for using live video and how often you're going to go live so that you can create a plan and strategy for it." @kpaine66 (click to tweet)
We love using the WATCH formula as a guide for thinking through a live show because it takes you through for What purpose, Activators to help drive awareness, Techniques to make you stand out, Consistency, and Humanizing elements you can add to the video.
By showing up on live video and sharing what you know, you have the ability to provide value to people and build relationships in a much more authentic way.
LinkedIn Newsletters:
Newsletters were originally developed and introduced only to influencers and then gradually started rolling out to more people. Thanks to Creator Mode, everyone has access to newsletters now, including company pages!
"You can get a lot of subscribers in a short time with LinkedIn newsletters and you can go in and see who subscribed, which is a great opportunity to build relationships further and start a conversation with someone." @kpaine66 (click to tweet)
Think about how often you want to publish.
For example, maybe you publish once a week because that's when you share a blog post and you want to repurpose your blog as a LinkedIn newsletter.
"If you're just testing with newsletters, I recommend that you do once a month for now. What's cool is that LinkedIn automatically sends a subscription request to all of your first-level connections." @kpaine66 (click to tweet)
What's most important is to think strategically about how to use this to add value to your connections and provide useful information.
LinkedIn Audio:
This is one of the newest tools available within Creator Mode!
"LinkedIn Audio is one of the tools you get access to within Creator Mode which is social audio, like Clubhouse…but better." @kpaine66 (click to tweet)
Think Twitter Spaces or Clubhouse, but on LinkedIn!
The way to use this feature is to scroll down on your profile page and hit the plus sign next to events to create an Audio Event. The event will be created ahead of time just like you would pre-schedule your live show in a third-party app for video.
You'll add the relevant information for your audio show and then LinkedIn will automatically create a post to inform your network that you're going live on audio.
"With LinkedIn Audio, when you click on someone's username, it takes you right to their profile which is huge because there is a lot of information on there." @kpaine66 (click to tweet)
Just like Twitter Spaces started to make Clubhouse less popular, we envision the same thing happening with LinkedIn Audio – especially seeing as how it's rolling out to more people by the day.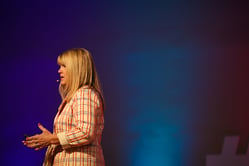 Kate herself only got access to the tool last week, so there are still a LOT of opportunities to jump into this early!
Because of that, LinkedIn Audio is absolutely something to keep your fingers on because it seems that more functionality will be rolling out within the tool.
As if this lineup of functionality weren't enough, there are two more benefits that Creator Mode offers:
Display topics you post about: on Creator Mode, you can add 5 hashtags/topics that you post about. This is hugely helpful for getting in front of the right eyeballs and growing your audience. By showcasing the topics you post about, it's easier to become known in your industry and drive clicks to your content.
Be eligible to be featured as a creator By LinkedIn: By using Creator Mode, you put yourself into a pool of individuals that LinkedIn is looking at to feature from a content standpoint. Being featured by LinkedIn is a surefire way to skyrocket your profile views and drive awareness of your business and offerings.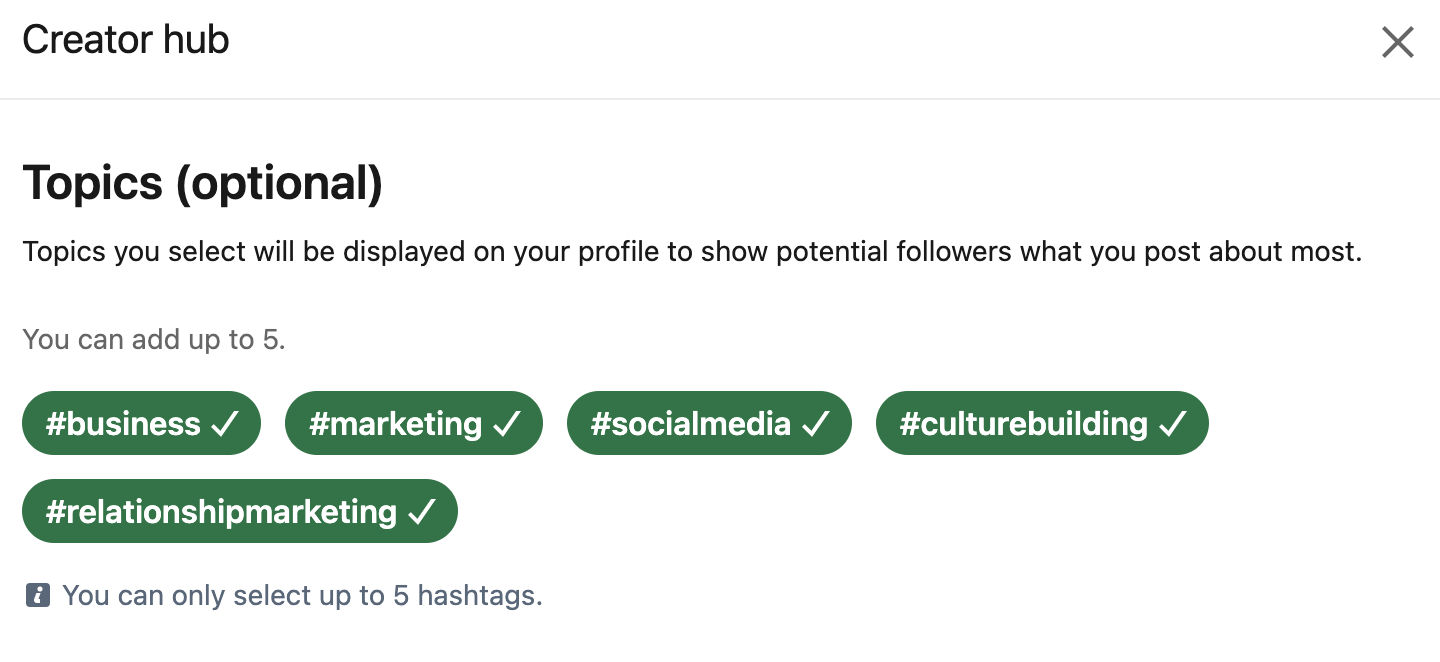 Oh, and did we mention that it's free and available to everyone!?
Who Creator Mode Is For:
Before you get started activating Creator Mode, it's important to recognize that Creator Mode isn't necessarily for everyone.
"If you want to make your profile really stand out and optimize it with keywords, Creator Mode is for you. When you turn it on, something happens instantly which is turn the connect button into a follow button." @kpaine66 (click to tweet)
When you turn on Creator Mode, the connect button on your profile turns into a Follow button so that when someone clicks on it, rather than become connected to you, they become essentially subscribed to your content and will be notified when you make an update.
While you still CAN connect with people in Creator Mode, the process is a little clunkier and some people don't like that.
How To Get Started:
It's extremely simple to enable Creator Mode on your profile.
By turning on Creator Mode, you open yourself up to a world of tools that allow you to amplify your reach on the platform.

Here is how to access Creator Mode on LinkedIn:
Click the "me" icon at the top of your LinkedIn homepage.
Click View Profile.
Scroll down to the resources section and click on Creator Mode: Off to turn it on.
Click Next on the Creator mode preview window that pops up.
Add topics (hashtags) as a way to indicate the topics you post about most.
Click Done.
That's it! You're set up to tap into this new ability to get discovered, showcase content on your profile, and get access to creator tools. (And it took less than one minute!)
Kate has two more quick tips to help you stand out on LinkedIn:
Create a video: LinkedIn lets you add a 30-second video to your profile so that when people click on your profile photo, the video starts to play. This is a fantastic opportunity to humanize your profile and introduce yourself!
Don't be salesy: Seriously, just don't do it. Invest in building real relationships because pitching yourself is a quick way to tank your presence on the platform. Instead, reach out in an authentic and human way.
"Do not use LinkedIn to pitch someone or be salesy with your connection request. Don't be that person. Build a relationship first and start a conversation." @kpaine66 (click to tweet)
Putting It All Together: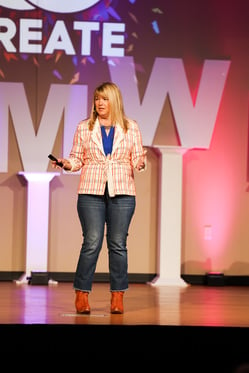 LinkedIn is an extremely powerful platform with a unique ability to connect individuals with like-minded professionals.
That said, it's critical for marketers and business owners to take the time to understand the platform's various features and functionality, such as Creator Mode.
Creator Mode is an extremely effective and efficient way to start to grow your reach and influence.
Not to mention, Creator Mode gives users access to exclusive features like LinkedIn Live, newsletters, Audio, and the ability to be featured by the platform themselves, which is a tremendously big deal!
"The whole piece with #LinkedIn #CreatorMode is that you can really build traction and influence with some of these tools, so figure how it makes sense in your strategy." @kpaine66 (click to tweet)
By utilizing LinkedIn Creator Mode, you can grow your reach, influence your industry, and build meaningful connections.
So, are you ready to get started?
Kate helps people define their personal brand and figure out how to tie their special and unique nuggets into their profiles to make them more compelling!
She can also help you figure out which tools make the most sense for you to use so that you can make it a sustainable plan for your business. We highly recommend reaching out to her if you want to use LinkedIn with more mastery!
What do you think? Are you going to start using Creator Mode on LinkedIn? Are you already using it?
We want to hear from you!