When it comes to building relationships online, audio is one of the most powerful mediums available. It's intimate, human, and real.
It's why we've been loving Clubhouse. And thanks to Twitter Spaces, we now have two places that we can go to hang out and consume audio-only content.
We sat down with the Twitter expert herself, Madalyn Sklar to talk all about Twitter Spaces, the best practices, and how brands can best be using it.
Madalyn Sklar is a serial entrepreneur, community builder, and leading Twitter marketing expert. With 25 years of digital marketing experience and 16 years of social media marketing under her belt, it's no surprise she's been ranked the #1 Social Media Power Influencer in Houston. Every week Madalyn hosts the popular #TwitterSmarter Twitter chat.
The Rise Of Audio Functionality:
Since the launch of Clubhouse, it seems as though audio-only functionality has taken off and it's easy to understand why.
There are so many benefits to using audio:
It's human. It's easy to convey emotion and create a connection to your audience.
It's easier and cheaper than video. Not only is the pressure to "get ready" removed, but you don't need lighting or fancy camera equipment.
It allows users to multitask. People can tune in while driving, going to the gym, or folding their laundry.
"I love that I can tune in while folding laundry! That's the power of these audio-only apps!" @jessikaphillips (click to tweet)
When it comes to audio we're all about it. In fact, voice memos are utilized quite frequently as a method of communication amongst our team at NOW.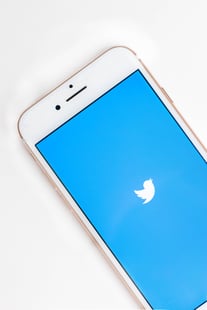 So now that we understand why audio is so popular, let's dive into Twitter spaces.
What Is Twitter Spaces:
According to Twitter, Spaces is "where live audio conversations happen."
It's like live podcasting but available to anyone. Well, almost.
"Users must have at least 600 followers in order to host a Twitter Space currently. It was in beta testing at first, but now it's open to everyone!" @madalynsklar (click to tweet)
The audio-only nature of the content makes it appealing because it's human and real-time.
The fact that it's live draws us in, because we know we can't consume it anywhere else! It creates that FOMO that every brand strives to create.
We know that if we don't tune in we can't catch the conversation; unlike video, it's not available for replay.
Not to mention, the bar to entry is lowered. While people wouldn't want to jump on a live video unless they are "camera-ready", there's no such thing when it comes to audio. We can consume and participate from the comfort of our couches, in our sweatpants.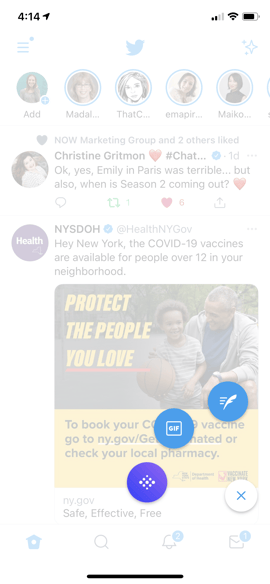 To see whether you have access to Spaces it's as simple as holding down (long-press) the compose tweet button.
If a purple audio icon doesn't show up at the left of the screen, you don't have access.
Pro tip: make sure you've got the most recent version of the Twitter app. There's a new update about every week, so it's something to be mindful of.
The Difference Between Spaces and Clubhouse:
While both Clubhouse and Twitter spaces offer audio-only, mobile-only functionality there are a ton of differences that exist between the two.
For a long time, the entry point to Clubhouse was an iPhone. While the app has since opened to Android users, there are limited spots.
For Twitter, the entry point is your follower count. Users must have more than 600 followers on Twitter.
Some of the benefits of Twitter Spaces that set it apart from Clubhouse are:
Ease of entry: Both Android and iPhone users are welcome!
Built-in audience: While Spaces is new, Twitter isn't. On Clubhouse, users had to establish a following from scratch and build an audience on a new platform. With Spaces, users benefit from their already existing Twitter following.
Captions: Twitter spaces have captions, making it an accessibility-friendly platform.
Reactions: One of the things that Clubhouse is seriously lacking is the ability for listeners to react/engage to let the speaker know that we love what they are saying. The reactions on Spaces are awesome and drive a lot of engagement. They also help to amplify the energy of the speaker who can see the reactions happening in real-time!
Some of the downsides of Twitter spaces are:
No hallway: There isn't really a feature that you can scroll through to find rooms to join to listen to or participate in, unlike there is in Clubhouse. This is likely something that Twitter will roll out in the near future.
No co-hosting: This is probably the biggest downside of Twitter Spaces currently. Without the ability to add a co-host users are not able to pass off the conversation for community management or hosting purposes by another user. This means that the conversation on Spaces has to end as soon as the host needs to get off of the app.
One thing we can expect is that Twitter will be constantly updating the features and functionality that exist inside of spaces.
How Brands Can Get Started With Spaces:
Audio-only functionality represents a totally new way for brands to start representing themselves!
When it comes to getting started as a brand, it's less about your brand and more about your team. Brands have the opportunity to encourage their team, even the introverts who don't like video, to start showing up.
"The real opportunity that brands have when it comes to both Twitter Spaces and Clubhouse is empowering their team to start using their voices and contributing to conversations in meaningful ways." @jessikaphillips (click to tweet)
That's the most powerful part- to empower your team to feel like they can go and step into these conversations.
Supporting your team in building their personal brands will only benefit your brand in the long run.
"I'm using Twitter Spaces to showcase my knowledge and help other people. It's also an incredible place to collaborate with members of your community!" @madalynsklar (click to tweet)
This is the power of dark social-- people will have conversations with your employees in the inbox, and the more that you support your employees and empower them, the more they become evangelists of your brand!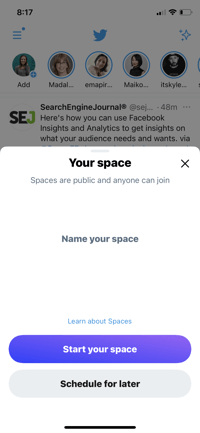 Another idea for brands? >> Turn the conversations happening on Twitter Spaces into a podcast! Twitter doesn't mind if you record what's happening in Spaces, so why not repurpose it?!
Best Practices For Spaces:
Just like with Clubhouse there are some best practices that we should be mindful of when using this new functionality.
Some Twitter Spaces Etiquette:
Be mindful of time: Madalyn recommends limiting your Spaces to one hour. It makes it easy for people to plan for and allows for a natural stopping point when you reach the hour.
Have a format: A consistent format makes your content more craveable and easier to follow and plan for.
Don't speak for too long: Remember, the point is to have a conversation so be mindful of how long you're speaking before you let someone else take the mic.
Be consistent: Just like with live video, consistency is critical in order to grow an audience. Aim to hold your rooms at the same time on the same day each week.
Promote when you're live: While Twitter says that you can see who is live on Spaces inside of Fleets, it's still buggy.
"For now, fleets is the best place where you can see someone is live in #TwitterSpaces. That's why I tweet when I'm live! I want to drive my audience to the room." @madalynsklar (click to tweet)
Putting It All Together:
Whether you decide to host a shark-tank style room, get creative and think of it like American idol, or do private coaching sessions, there's so much you can do when it comes to audio-only functionality!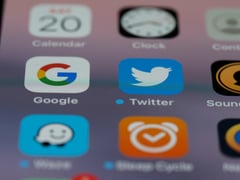 Thanks to Spaces, we have the ability to have more meaningful conversations with our followers and the people that we're following on Twitter.
These are the kinds of conversations that lead to relationships.
"Go live in a way that showcases your expertise and people will appreciate that! People will stick around" @jessikaphillips (click to tweet)
If you continue to see familiar faces week after week, you know you're doing something right.
And just like with any social media platform, experimentation is huge!
"My biggest tip is to have the experimental mindset because there's no rulebook for what's bound to work." @madalynsklar (click to tweet)
By continuing to experiment with new features and functionality, we learn more about what kind of content resonates with our audience and maximize the opportunities to build relationships with them!
Thanks to audio-only functionality, we can humanize what we do and make people feel like they're right there with us.
To learn more about Twitter Spaces, get this free guide from Madalyn!
Also, be sure to turn into everything Madalyn has to offer on Twitter:
#TwitterSmarter is 1 pm EST and the after-chat on Spaces is 5 pm EST
All Things Audio is 3 pm EST in Spaces on Wednesday
Twitter Profile Reviews happen 1 pm EST in Spaces on Saturday
Are you going to start to use Twitter Spaces to build your personal brand? Do you think you will encourage your employees to start contributing to conversations happening on these platforms?
Let us know what you think in the comments below!