If there's one social platform that kills it when it comes to Stories, we all know that it's Instagram.
Ever since Instagram mirrored story functionality from... oh, we mean presented an alternative to... Snapchat, people have gone all in on InstaStories. It totally makes sense given the type of content that performs best on social media today is human, real/authentic, fast-moving and interactive. Stories is the perfect platform to post that type of expressive, take-a-peek into real-life, content.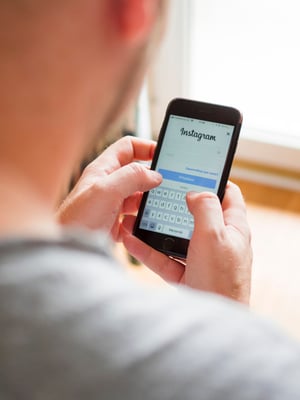 InstaStory content expires after 24 hours which makes it a great place to give your content a test-drive. As marketers, we all know the importance of testing!
If you want to LEVEL-UP your content, it comes down to testing different features, functionalities, calls to action and content types and seeing what your audience will resonate with the most.
Why We Love InstaStories:
We can't think of a more fun place to spend time on social media. InstaStories are creative, engaging and super interactive. It's like watching reality tv from your favorite creators. With 500+ million daily active users, we know we're not alone.
According to HootSuite, 1 billion people use Instagram every month, and 63% of users log into the app at least once a day. We also know that ⅓ of the most-viewed stories on Instagram are from brands, which means that as a business, it's time for us to step up our game. Especially when we think about the fact that 62% of people say they have become more interested in a brand or product after seeing it in Stories!
Oh, and did we mention that 1 in 4 Millennials and Gen Z-ers look for Stories of the products and services they want to buy? <<<< That's an important statistic.
It's like, hello! InstaStories are where it's AT! Based on the nature of the content type, there's something about InstaStories that makes us feel like we're getting exclusive access to content; it's like we're taken behind-the-scenes.
How To Create Better InstaStories:
When it comes to InstaStories, there are so many options for how we can step up our game and create better content. Enhancing your visuals; telling more compelling stories; tagging others; utilizing stickers… it seems like the options are endless given the enormous amount of functionality that InstaStories offers.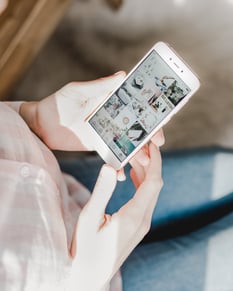 So, rather than go down the rabbit hole of every individual feature offered, we rounded up our top 10 strategic tips for how you can create better InstaStories:
Have A Plan: We're starting here because we fully believe that all content is better when we take the time to plan it out ahead of time. Here's the thing: the beauty of InstaStories is the real and raw nature of the content, so while we need a plan, we definitely don't want to over-plan. Planning ahead for EVERY single time we use InstaStories isn't realistic and it doesn't come across as genuine. Sometimes, it's run-and-gun style, which people DO love! That said, our favorite stories are, well, STORIES - they have a start, middle, and end. We've all seen InstaStories that sort of end on a cliff-hanger. We don't want to do that! If there is something to be said, make sure there are specific points to make, and make sure that point LANDS. In essence, the idea of planning is planning for the VALUE created in our story. Whether we're monologuing, attending an event, going on an adventure or taking people through "A Day In The Life," we want to plan ahead so that our story has a clearly defined start and end. That's going to keep people engaged as they watch!


Be Human: Okay, so we've got a plan in place for how we're going to use Stories. Our next tip to create great content is to be human. Be yourself! Even though he's pretty awesome, nobody wants to see "the next Gary V," we want to see YOU! When we let our real self shine through our content, we create real relationships online. We recommend using stories to share what we're passionate about; to share our opinions on popular topics; educate our audience on what we know; make them laugh… Stories are a space for us to show what makes us different and let people into our world. Whether we are singing, painting, talking, dancing, working out… people want to see the behind-the-scenes, so it's about embracing the raw nature of the platform and just showing up as we are.


Be Consistent: Consistency is key to creating a sense of community. Since InstaStories get prime placement at the top of the app, having an active story at all times is an incredible way to drive more views and engagement on our Stories. Our audience should know when to expect to see us on Stories whether that's daily, or weekly. When we create Stories daily, we get our audience in the habit of seeing us on this platform and the more engagement we can drive, the more we'll be shown at the top of the app to our audience.


Use Filters: One of the most fun things about InstaStories is all of the filters offered. Instagram offers a number of pre-made filters right on the app AND there are tons of creators making their own filters that we can download directly to our InstaStories to utilize. Think: glitter, a tan effect, baby yoda, moving elements, color-tints, sparkles, over-sized eyes, etc… There are so many freakin' filters available with a simple swipe. Whether we're using the front-facing camera or not, these filters can be used to enhance our Stories in so many ways! We can incorporate filters into our Stories to fit the mood of our story and enhance the actual story itself. Think about how romantic it would look to use a filter of snow falling as we talk about getting ready for the winter. That said, we need to be mindful of how often we're using filters, especially ones on our face! If we're going for authenticity, we don't want to completely transform our face with filters. Rather, let's use filters to enhance the creativity of the story!


Use Apps: Instagram has a TON of features, functionality and filters for us to pick from, but there are so many apps that can help us to tell better Stories, too! Some of our favorites are: InStories, Unfold and Canva! These apps have gorgeous templates that we can use to make our Stories pop and look different from the "standard" options that you find on Instagram. We're all about tapping into tools that help us step up our game, so we're big fans of checking out different apps to see whether incorporating new looks and templates helps to drive more engagement from our audience!


Use A Variety Of Media: We love how many options there are for the TYPE of Story we're going to create on Instagram because it really lets us get creative. You aren't limited to JUST photos and videos on InstaStories. When you hit the + in the top left corner on Instagram and select Story, we see the toolbar on the left side of the screen. The toolbar has the options of: Create, Boomerang, Layout, Superzoom and Hands-Free. Add text to Stories with the create button; make Boomerangs; add multiple photos OR videos to ONE Story through the Layout button; there are a variety of options for Superzoom (think: zooming in on a cute puppy with a bone or a new website feature) and you have the ability to record Hands-Free. Using the various options from this toolbar ALONE is a fantastic way to keep Stories engaging.


Make It Branded:

One of our favorite ways to make your Stories more memorable is to apply branding to them! This can be done in so many different ways, from using the same background color whenever you share someone's post to your Stories and/or using the same sets of fonts and colors for the text on your Stories. When it comes down to it, utilizing our brand colors is a great way to grow awareness for our brand look and become memorable faster.

(We think that Alex Beadon does a great job at this.)


Our big tip>> pick a color (or two) from the already existing options that best matches your brand colors and plan to use that as the background color whenever you share someone's content to your Stories. This is a quick win that can really start to amplify the overall look and professionalism of your Stories. Using the same colors and fonts overtime is a sure-fire way to get your audience familiar with your brand. In time, your audience will know that Story is yours without having to check the name in the corner.


Tap Into Stickers: Okay, now we're going to talk about our FAVORITE feature of InstaStories: the stickers! This is where we think the real power is when it comes to stepping up your game because there are SO. MANY. OPTIONS! Stickers can be accessed through the square button at the top of InstaStories, after we've snapped a photo or recorded a video OR uploaded a photo or video from our camera roll. Some of the most popular interactive stickers are: Location, Mention, Hashtag, Donation, Gif, Music, Time, Poll, Questions, Countdown, Sliding Scale, Quiz, Temperature, Selfie, Stay Home, Food Orders, Gift Cards, Support Small Business.

The functionality behind these stickers is pretty self-explanatory. (Location lets us tag places; Mention lets us tag people; Hashtag lets us add hashtags, etc…) There are also graphic/media stickers that we can include as we scroll down the options, like Day Of The Week stickers, and the famous ones we all have come to know and love like "Basic," "Ugh," "Yasss," "Want," "Sound On," and more…

These stickers are an incredible way to add personality to our Stories, but they also create engagement points with your audience. They also can help expand the reach of our Stories in a ton of ways. For instance, using the mention sticker allows us to mention another Instagram user. When we do that, our Story will appear in their DMs as a notification. When using the Stay Home sticker, we have the ability to have our story appear on a universal "Stay home" story on Instagram.

Our FAVORITE stickers have gotta be the GIF (what a fun way to add personality AND keep our Story showing for a few seconds longer,) Poll, Quiz and Questions. We specifically love these three because they can be used in such fun ways to get to know our audience better. They're instant conversation starters!

Our biggest tip when it comes to stickers >> don't overuse them. We don't want to see 5 stickers per story UNLESS they are all intentionally placed and TRULY enhance that Story. Don't use stickers JUST to use them.


Use Captions OR Text: There's a reason as to why Facebook automatically generates closed-captions for videos: people are watching content with the sound off. Yes, writing out captions to pair with our videos takes more time but we think it's completely worth it because we want our audience to KNOW what we're saying. Captions allow our audience to still get the value of our content even when they're watching without sound, which most people are! (We love this story from Outdoor voices because it's branded, text-based AND informative for their audience.) Similarly, we want to make our content friendly for our hearing-impaired audience. Writing captions can enhance the story and add more context to what's being said in the video. It's about meeting our audience where they're at: showing that we know they're probably viewing on-the-go. Not to mention, writing captions shows that we really care about our audience's ability to digest our content. It's ALWAYS worth taking that extra effort to show that we care.


Have Fun: Last but definitely not least, to create better InstaStories, have FUN with it! We can't take ourselves so seriously. Over-planned and over-produced Stories usually flop. The more human, real and raw we can be, while still providing value and being engaging, the better our Stories will perform. Energy and joy are contagious, so when we can tap into those emotions and let them shine through our Stories, our content is going to be more memorable!
Who Rocks InstaStories:
The best thing about Instagram is that it's a platform that makes sense regardless of your industry. There are SO many brands, and individuals, that are killing it on InstaStories, so "measuring success" is really subjective.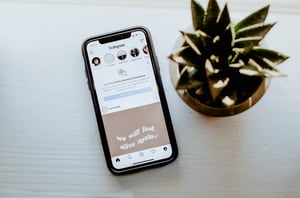 In order to know whether you're really rocking InstaStories, you have to have a goal for what exactly you're hoping InstaStories "will do" for your business.
For instance, getting more viewers over time might be what you view as a "win." For some, they might not care about the number of viewers as much as they care about the engagement they're getting on their polls or question stickers - creating an active audience.
Setting a goal focusing on the number of swipe-ups (which is accessible only to profiles with 10k+ followers, or are verified) could be a priority for others. eCommerce brands with their Instagram Shop set-up could set a metric of product views or items purchased, or website conversions... truly thinking about being purposeful with your InstaStories is the first step of your content creation.
Regardless of how you measure success, there's one thing we can all agree on: you want to have a call to action in mind for your InstaStories.
Whether you're asking people to visit your website or just engage with you, be clear about what you want your audience to do... clarity = ROI. An active audience is an informed audience.
While we could list hundreds of different accounts that we love following on InstaStories, like basically everyone listed in this TIME article, we're going to narrow it down. Believe us, this was hard to do because there are so many incredible creators on Instagram.
Here are few of our favorites Instagram creators:

The reason why we love these creators? >> They are unique. They let their personalities shine through their content.
Some of the creators mentioned above utilize strong branding and design to make their stories pop. Some of the creators don't focus as much on design, but dive heavily into the quality of their content, making craveable content that keeps people coming back for more day after day.
The point? >> It matters so much less about the industry you're in, and more about what you do with the tools, features and functionality presented to you.
There are so many ways that we can up our game when it comes to our InstaStories. It really comes down to how much time we're willing to take to do it!
What do you think? What is your top tip for creating better InstaStories? Do you have favorite people to follow on the platform?
Let us know in the comments below!