With more and more business happening online every day, it's critical for brands to embrace the power of eCommerce.
According to this article, it's estimated that there will be 2.14 billion global digital buyers in 2021. That's a lot of buyers, which is exactly why it's so important for us to understand how to create eCommerce solutions for our businesses.
Without some sort of digital presence, it's virtually impossible to grow brand awareness and drive sales today.
To better understand the topic, we invited our friend Jeff Howell onto Magnet Marketers to break down how to develop a killer eCommerce strategy.
A well-seasoned developer in the eCommerce field who continues to maintain his finger on the pulse of the marketing industry, Jeff brings an immense catalog of knowledge to any conversation.
Why Every Brand Needs An eCommerce Solution:
ECommerce is truly a part of our everyday lives, whether or not you realize it, and it matters to everyone, regardless of industry.
"Anybody who has a product or service they want to sell can start building relationships and incorporate an #eCommerce solution." @jeffhowell76 (click to tweet)
Think about how easy it is for you to search for those new booties or golf clubs you've been eyeing, or how often you browse Facebook Marketplace for new home decor, or the ease of ordering groceries during the pandemic…we could go on and on with different examples of eCommerce in action.
In today's world, it's easy to access virtually anything we want because of the integration of eCommerce solutions.
"We're in this pandemic and people talk about 'when things get back to normal' but the reality is that there's a new normal and my patterns and routines have changed permanently and one of those is #eCommerce shopping." @mike_gingerich (click to tweet)
Online shopping is so engrained into our daily lives, it's become critical that brands incorporate it into their business operations.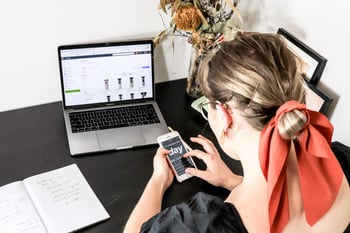 Everyone has something to sell - whether it's an experience, service, product, website, gadget, social media plan, etc - and if you don't have the ability to execute that transaction online, you stand to lose out on a lot of business.
"Not having an #eCommerce solution is a massive barrier to entry." @jeffhowell76 (click to tweet)
If your brand doesn't allow someone to easily contact you online, you missing out on relationships that can be made. (Because we all know that relationships are more powerful than marketing!)
Thanks to eCommerce, brands can create seamless, amazing experiences for their customers and in doing so, free up their team to focus LESS on sales and MORE on relationship-building!
What Matters Most In eCommerce:
While it's easy to get caught up in the tools, what matters most when it comes to eCommerce is actually the experience for the user.
The easier brands make it for customers to purchase, and the more personalized experiences they provide, the more likely it is that they'll create loyal customers.
"The future of business is all about experience. Experience being how easy is it to be business with you." @jessikaphillips (click to tweet)
It's critical to remove the friction from the process and make it easy for people to interact with you.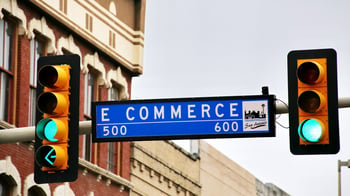 According to this article, 58% of people will stop doing business with a company because of poor customer experience.
That's because the experience - how you're making people FEEL - is what is most memorable.
We want to create seamless, frictionless, and user-friendly experiences that leave people feeling good!
"#eCommerce is all about making the purchasing decision easier for the consumer and it can be applied to any brand. There's no excuse to not have that anymore." @jeffhowell76 (click to tweet)
Ease and speed of checkout are the most critical components to consider as part of the overall experience.
"My rule of thumb is 3-4 clicks maximum for someone to go through to purchase. They are giving you money for the product they are buying, you don't want to make them work for it." @jeffhowell76 (click to tweet)
We want to make it as easy and smooth as possible for people to browse, give us their information and purchase again!
"Whatever actions you're wanting someone to perform on your site, if you can write out those steps, you'll see where you can remove friction and add delight." @jessikaphillips (click to tweet)
Another great way to remove friction and enhance the user experience >> Ask your customers for feedback!
"It will go far if you ask your clients for feedback on your #eCommerce solution and get them to be a part of the process with you! Ask them what they look for when they're going to purchase." @jeffhowell76 (click to tweet)
Have your trusted community test things out on your site so that you truly understand what the checkout process is like for a customer. Understand what your audience expects from you so that you can deliver on it!
A few more ideas for ways to enhance your website user experience:
Create product reminders: Use a plugin/tool that allows you to prompt returning customers for when it's time to re-order!
Save people's information: Don't make your returning customers have to re-enter the same information they've already given you! Make it seamless by saving their information when they log back in.
Easy refunds: Show that you care by making it easy to exchange and/or get a refund. This is huge in driving repeat business and loyalty.
Make the cart easily accessible: Don't hide the freakin' cart, people! Make it easy for people to add items, keep browsing, click back and hop around your site without losing any items OR losing the cart icon for easy checkout.
By keeping the user experience in mind, you show that you care which truly helps to amplify the relationship you're creating with people.
How To Pick The Platform:
There are tons of solutions available for brands that want to start dipping their toes into the eCommerce waters.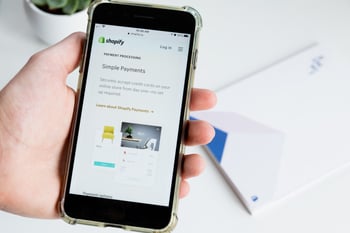 What's most important is doing research, as every platform is different, and not every one is the right fit for your brand.
Looking up the solutions will help you determine what platforms make the most sense given what you're selling, who you're selling to, how many products you have, how you plan to market them, etc.
It's also important to note that not all platforms make products indexable by Google.
"Each different #ContentManagementSystem has their own content modules that you can plug into your site but not every one has the ability to have products indexable by #Google, so do your research." @jeffhowell76 (click to tweet)
Be sure to look into all of the pieces involved so that you know how to truly integrate your eCommerce solution into the tools and platforms that you're already using.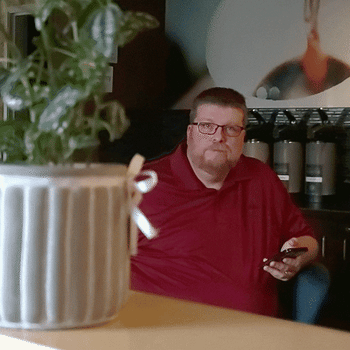 When it comes to getting started integrating eCommerce into your business, you need to research and be willing to reach out to others (like Jeff!) to figure out what makes the most sense for you.
Another big tip from Jeff >> Research about the tax and shipping costs.
It's critical to understand the proper tax needed; this should be a big part of your preliminary information gathering because you could end up eating into your profits after tax and shipping costs.
Every state has different ways of doing things, so look into it because those are two major items to consider in your eCommerce solution.
Putting It All Together:
At the end of the day, it's less about the eCommerce tool and more about how you use the tools to enhance the user experience and create a seamless solution for your customer.
"We expect things to be able to be done online and we expect that ease of use, so brands need to think what they can make easier for their customers." @jessikaphillips (click to tweet)
Having a systematic approach isn't about removing a person, it's about freeing them up so that they can interact more with customers.
Creating a friction-free experience is truly a win-win for your brand. Not only will it help create efficiencies that let your team focus more on relationship management, but it makes your customers happy which feels good and drives repeat and referral business.
eCommerce lets us focus on what truly matters most in business: building relationships.
What sites do you love to shop from? Who do you think has a great ECommerce experience? We'd love to hear!