Your website is your home base; the one place, unlike social media, that you own on the internet and have complete control over.
A website is where you make your digital impression, and how it functions, looks, and operates can make or break the success of your business.
So, what are the biggest mistakes that brands make on their website?
We asked our Web Development team to chime in and share the biggest ones so that you can ensure that you're not making them on your site.
The Top Mistakes Made On Websites:
Believe us when we say that we've seen almost every mistake possible regarding websites, whether broken links, terribly slow-loading pages, and/or confusing landing page copy.
It's important as a brand to avoid these mistakes so that you don't make a poor first impression when someone visits your site.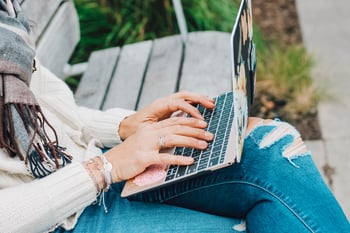 Below are the top mistakes that we see being made on websites today:
Lack of File Compression:
One of the biggest mistakes we see is a lack of file compression. If you don't compress your files, your website will take forever to load.
In a world where people expect websites to load instantly, all photos and videos should be compressed on your site.
Use tools to properly handle large images, audio files, and videos to save yourself from terrible load times and getting a bad score from Google.
Action step: look at this great list of different file compression software and determine whether it makes sense to start using one of these if you're not already.
Placing Critical Text Below The Fold:
The most important information about your business and brand should be above the fold on the front page of your website.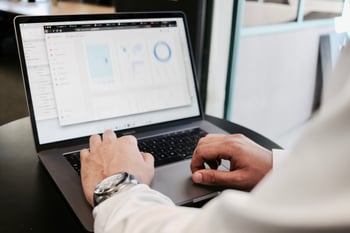 Don't make your audience scroll down to learn about who you are, the products/services provide, and what truly matters to your brand. You want to be clear and direct in how you state your focus as a business.
Action step: look through your website as if you're brand new to your business and determine whether you feel you get the adequate information needed to explain what your business does ABOVE the fold.
If it's unclear, use this as an opportunity to make changes to your homepage so that you're putting your best foot forward.
Forgetting About White Space:
A major mistake we see all the time is forgetting about white space.
Don't try to cram as much content and information as possible onto the screen; that will overwhelm your audience and make your website look overly promotional.
Action step: have an appropriate white space so your site feels clean and easy to browse. Breaking text chunks into paragraphs, having clearly defined sections, and using bullet points is a great way to do this.
There are a few other mistakes that we see made often that you want to avoid, such as:
Using stock photography: This is a surefire way to strip your brand of personality. It's worthwhile to take the time and money to create your own photography and show the actual faces of the people that work on your team. This is how you humanize your brand and create a connection with your audience.
Using jargon: Avoid using too many technical terms and acronyms because they might confuse your audience. Be sure to spell out the acronyms for exactly what they stand for, and explain the technical terms in detail so that your audience understands exactly what you do.
Lack of brand identity: Use consistent fonts and colors to create a consistent brand identity. Your videos, images, and colors should all appear part of a cohesive brand catalog. This is how to drive awareness of your visual identity.
Putting It All Together:
Your website is a critical part of the larger digital marketing puzzle, and your brand must take the time to put its best foot forward.
By following the latest trends in website development, you can ensure that your brand doesn't miss out on the opportunity to use your website to provide information and start building a relationship with your customers.
What do you think? What are the most common mistakes you see brands making on their website? Do you have tips on how to avoid them?
Let us know in the comments below.