All social media managers know this one thing to be true: change is constant.
Algorithms are always updating, new features get rolled out and best practices change which means that staying up with the latest information in the industry is a must.
A good social media manager is nimble, adaptable and a life-long learner that keeps their finger on the pulse of what's happening.
Those that are truly passionate about staying in the know understand how isolating it can feel sometimes.
Working as an account manager especially means that sometimes you're crafting content, making graphics, and analyzing reports as a one-person show. It can be a little hard to feel like you're on an island, which is exactly why we launched our new monthly live video show, NOW And Them.
The show takes place on the first Thursday of every month at 3:30 pm EST and is hosted by our Brand Manager Julia Jornsay-Silverberg and Account Manager Andres Medina.
For this month's episode, we had fellow Account Manager Olivia Smith join them to do a deep dive into the world of account management.
What Skills A Successful Social Strategist Needs:
So, what does it look like to be a successful social strategist?
At the heart of the job is adaptability; a successful account manager understands that it's critical to be nimble and adaptable to changes in both client needs and platform best practices.
The most frequently asked questions that account managers tend to get are:
What are the top trends in social media currently and how can we start to craft content that is reflective of those trends?
How can we collaborate with other businesses and our customers more?
What kinds of content drives engagement?
How are the changes with Google and Facebook going to impact paid advertising?
How do you stay organized in the role of an account manager?
How do I reach more people online?
Another commonality that we see among the best social content creators? A desire to never stop learning. They are always staying up with the latest and greatest features and functionality, and never afraid to roll up their sleeves and use themselves as a guinea pig to test things out.
The Top Tools Social Media Managers Use:
Every professional, regardless of the industry, has a set of tools that they use to do their jobs well. Carpenters have their hammers; doctors have their scalpels, and social media managers have their Business Managers.
Any social media manager will tell you that using the right tools can completely transform the role and make things so much easier and more efficient. Not to mention, more fun!
Figuring out what tools to use can be extremely difficult given that there are literally thousands of options for social media management, scheduling, hashtag tracking, graphic design, and community management platforms.
That's why we wanted to share our favorites; this way, you can save your precious time and skip the research phase, and move right into implementation.
Remember: it's less about the tool and so much more about the technique that you use. Think of the tool like the car; it's there to help get you where you want to go, but you want to focus on your destination more.
Our favorite tools that we use as Account Managers:
Not only are all of these tools extremely user-friendly, but they help us to save time without sacrificing the quality of our work or community-building efforts.
Putting It All Together:
At the end of the day, it's clear that one of the most critical skills for any social media manager is having a community-oriented mindset.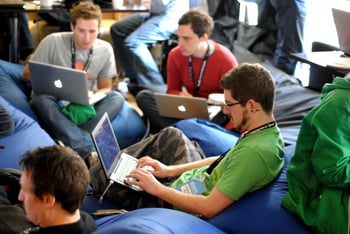 Relationships will always be more powerful than marketing, which is why we have to focus on creating that sense of community above all else.
Not to mention, adopting a relationship marketing mindset will inspire your brand to showcase your humanity through your social media content, and we know this is the time of content that works well!
Another important skill that we have to remember is being nimble. Being able to be flexible with your content is one of the most important things when it comes to account management.
The strongest social strategists are adaptable and can pivot when needed. Being able to switch from one client voice to another, or go from creating ad copy to email copy is a huge asset.
The last thing to focus on? >> Staying on top of the changes in the industry.
"Never stop learning because the more you watch, read and listen, the more creative you get when it comes to creating content." - Andres Medina
By focusing on our communities, and staying on top of the latest tools, trends, and tactics, we can ensure that we're never missing an opportunity to build relationships and create connections with the right people on social media.
What do you think? What skills do you think every social media account manager needs? Do you have favorite tools that you use on a daily or weekly basis?
We'd love to hear from you!