With so many changes happening in the digital marketing space, one thing has remained constant: video is still the most effective and powerful form of content that we can create.
Video is eye-catching and entertaining; not to mention, it's prioritized across all of the algorithms on our favorite social media platforms.
"If you're not creating video in a variety of forms, you're going to be left behind at some point," @KimGarst (click to tweet)
Our friend Kim Garst joined us on January 4, 2022, to kick off our newest season of Magnet Marketers and talk about the most important thing to pay attention to as we head into the new year.
Kim Garst is one of the world's most retweeted people among digital marketers. She is a renowned marketing strategist, keynote speaker and an international best-selling author of Will The Real You Please Stand Up, Show Up, Be Authentic and Prosper in Social Media.
Kim focuses on helping entrepreneurs grow their businesses using social and digital media strategies. Kim is also internationally recognized as a thought leader in the social media space. Forbes named her as one of the Top 10 Social Media Power Influencers. Her blog, kimgarst.com, is one of the top social media resources in the world.
Embracing The Metaverse:
As we continue to enter into this new territory that is the metaverse, there are so many amazing opportunities present for marketers and brands to lean into new technologies to showcase their offerings.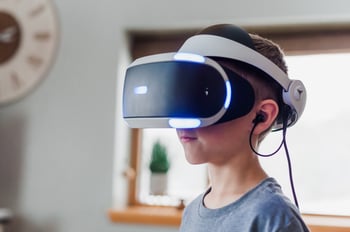 For instance, The Crossroads of Northwest Ohio is an orchestrated community being created to offer residential neighborhoods, commercial establishments, hotels, restaurants, entertainment, and community-based festivals and events.
We have worked together to lean into VR/AR to give people a real sense of what things will look like once the project is complete. (Peep the fun updates on Facebook!)
What the metaverse offers is the chance for brands to truly lean into a variety of mediums to create exceptional experiences. VR and AR are powerful tools for doing this, but so is video.
"Video keeps circling on everyone's list but there is still so much opportunity for video which is why getting smarter with video is the one thing we all need to do in 2022." @kimgarst (click to tweet)
In fact, 73% of people are persuaded to buy a product after seeing a video about it. Video is a powerful force in driving purchase decisions and it's not surprising as to why.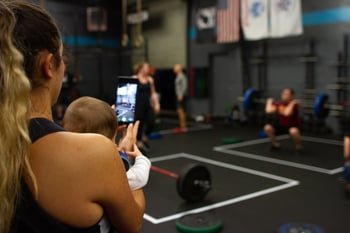 Video grabs attention and with the explosion of short-form video content with YouTube shorts, Instagram Reels, and TikTok, there's no stopping the trend.
Short-form content is here to stay and the more that brands lean into it, the more they'll be able to capture attention, build relationships and eventually drive sales as a result of it.
The Benefits Of Video:
There are so many benefits to using video as a brand, one of them being endless outlets for creativity.
With so many different social platforms to create content on, there is literally no limit to what you can produce.
Whether it's Instagram reels or funny TikToks, or a live show on Facebook, or a pre-recorded interview-style show on Youtube… maybe you lean into all of them and see what drives engagement. (See what we mean, there are endless possibilities!)
"YouTube is a very different animal than TikTok; you have to be aware of the differences in platforms." @mike_gingerich (click to tweet)
As brands, understanding the nuances of each platform will be hugely important in order to create the right kind of content for each channel.
Here are the benefits of creating video content:
Be an educational resource: This is why we host our weekly Magnet Marketers show, to share information with others! Video gives us the ability to teach people in a way that's fast-moving and eye-catching. So many people find that they're able to retain more information through video than any other form of content, so lean into it! If someone learns something new from your video, they're going to remember you in a positive light.
Entertain your audience: We go to social media to be entertained, and video is a great way to do that. Whether you're showing a behind-the-scenes process, a clip of your team laughing or a teaser for an upcoming project you're working on, there is so much you can do to entertain your audience through video.
Gain credibility: Video content is the best way for us to grow our credibility and establish that know, like, and trust factor. By showing up as our authentic selves, we have the ability to grow rapport with our audience and build relationships.
Build community: We truly get to know people in this form of content and it lets us build close relationships with our audiences. Video is the medium that lets us create that sense of community fastest!
Become influential: All of the interactions that the younger generation are having with brands is through social media and video in particular. Videos, especially ones of your audience sharing about you, are a huge way to grow your influence online.
Grow exposure: Because video is prioritized in the majority of social media channels algorithms, it's an incredible way to get eyeballs and reach new people.
The benefits of using video in your social media marketing strategy are seemingly endless.
"The younger generation is so driven from a buying perspective when it comes to seeing video content from a brand." @kimgarst (click to tweet)
The more brands can lean into video content and start creating it on a consistent basis, the better they'll perform on social media.
Getting Started As A Brand:
It's one thing to talk about video and another to execute what you've learned and put it into action.
"How do you create those fun experiences? It's easier in a live environment but it's absolutely doable in any form of video that makes them feel they're a part of an experience." @Kimgarst (click to tweet)
Whether you go live or post pre-recorded videos, there are so many ways to bring your audience into the experience.
Here are tips for getting started:
Collaborate with others: Work with others in your industry that are already doing video and have comfort in the space that can help not only guide you along in what you're doing but collaborate with you on ideas. This is how you can expose your

community

to more amazing creators and give them more value!
Bring your team into it: Shine a spotlight on your team and let them be the face of your company! That's a great way to share your message without having to be front and center on camera. It's also a great way to showcase your culture.
Practice: Don't put pressure on yourself to be an expert with video from the start. It takes a lot of time and practice to get better, so don't be afraid to just take the camera out and start recording! You don't have to go live yet. Just start getting comfortable with how you look and sound on camera. This practice will be what ends up

making you confident

in the long run.
Brainstorm ideas: It can be hard to get started with video which is why having brainstorms is hugely helpful! When you all put your heads together as a team, you come up with a laundry list of ideas that will not only energize the team but serve to fuel your creativity for content creation.
Regardless of what you're doing, the name of the game right now is truly relationship building and serving as a resource, connector, and community-builder.
"There is so much opportunity right now whether you're using video to gamify or creating a course… you want to be the guide for your community." @kimgarst (click to tweet)
The more that we can show up on a consistent basis and guide our community to solutions to their problems, help them think outside of the box, introduce them to new and interesting people, the better relationships we will build with them.
"Let your customer take the lead! Find out what kind of journey your customer wants to take and work towards being the guide to getting them there." @jessikaphillips (click to tweet)
The beauty of the metaverse is that brands truly have the chance to put their community members in the driving seat to chart the course that's most meaningful to them.
Are you excited about all of the opportunities the metaverse presents for brands? Are you using video as a major part of your marketing strategy yet?
We'd love to hear from you in the comments below!
Bonus nugget: If you're feeling inspired to create a live video show for your brand, we've got you covered with a thorough checklist and template.