There's no doubt that in today's cluttered social media landscape, the more human and personal you are, the more you'll stand out.
Storytelling is not only an amazing way to capture attention, but it's how we create connections and build relationships.
Stories tug at our heartstrings and imprint on us in meaningful ways, especially when they are truly vulnerable.
While it's not easy to be vulnerable online and share in a personal way, it can transform the connections you create online. That's why we invited the amazing Tim Sohn onto Magnet Marketers to discuss how to lean into the power of personal storytelling.
Tim Sohn is the founder and CEO of Sohn Social Media Solutions, where he produces memorable live shows and virtual events so you can focus on showing up and having amazing conversations. He believes strongly that live-streaming is all about building relationships, impact, and community. He is also a 15-year cancer survivor and just found out in December that he is cancer-free.
Tim believes it is important to share your personal story on social media so you become more relatable, inspire others & grow your business. He is also the co-host of The Tim & Jim Show along with Jim Fuhs; and the main host of Showing Up: Perspectives On Cancer along with his bestie Kara Oelker, co-host and producer. Tim is also a husband to Joy and dad to Megan, 10, and Katelyn, 7.
Why Personal Content Is So Powerful:
In order to create real relationships and deep connections, we - as brands and individuals - have to take our content past surface level.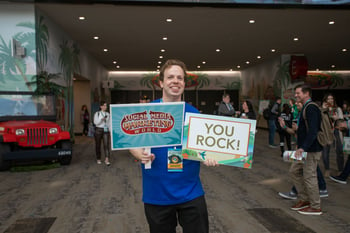 Tim is a shining example of someone who has done just that; in June of 2021, he shared on LinkedIn about his experience of living with cancer as well as his news of becoming cancer-free in December of that year.
Throughout his doing so, he was overwhelmed by the response he got from other cancer survivors.
"Yes, you want to put content out about your expertise but also think about what content you can create that will connect to other people on a human level." @sohnsocialmedia (click to tweet)
Oftentimes brands think that they have to stay in their lane and only talk business. It can feel risky to "step outside of the box" and share on a more personal level, but if you want to create deep connections, it's truly the best way how.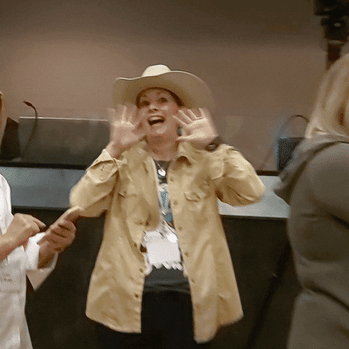 Personal stories are relatable; it's why they are the vehicle for driving the know, like, and trust factor in any relationship.
Anyone can have expertise in a specific area; that's not why we decide to work with them. We work with people because we have a meaningful connection to them in some way.
How To Craft Personal Content:
What makes content truly memorable and personal is when it feels like it's an invitation into someone's world.
"It doesn't have to be a tragedy but it has to be relatable and personal in order for it to be human content." @jessikaphillips (click to tweet)
Whether you're a brand or an individual, your content should feel human. It shouldn't feel canned or pre-recorded; it should feel customized and personal.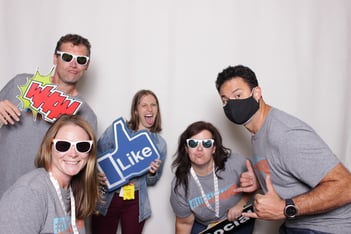 The best part? >> Your brand doesn't have to share more than you're comfortable with. You just have to think outside of the box!
Here are some ideas for brands to create personalized content:
Create a video that shows behind-the-scenes of the day at the office
Give an employee the "keys to the car" for a social media takeover for a day on their favorite social channel
Feature client testimonial videos that speak to what it's like to work together
Do a team bonding activity and snap a photo to commemorate the event
Shine a light on your employees, clients, or community and sing their praises
A bonus tip for brands that go live? >> Go above and beyond to reach out personally via direct message to anyone who engaged with your live show. This is an excellent way to build relationships.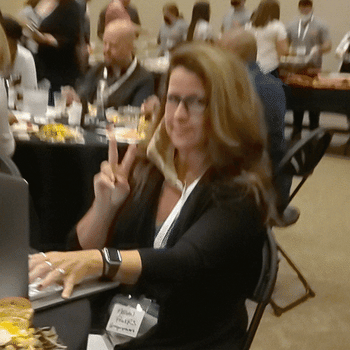 So many brands get held up in humanizing their content creation without realizing that it's all about shining a light on others! It doesn't even have to be about your brand.
Shining a light and saying thank you can be a personalized story in and of itself!
The Benefits Of Sharing Vulnerably:
While it definitely takes bravery and isn't easy, being vulnerable online is a lot like going live on video in that it gets easier each time you do it.
Sharing vulnerably is not only an incredible way to build relationships and attract the right people to you, but it's an amazing way to push away the people that you aren't meant for. Win-win!
Not to mention, by being vulnerable on social media, you create a space for others to do the same, and that truly creates a bonding experience.
"We crave that sense of feeling connected, and we need more caring and checking in on one another right now." @jessikaphillips (click to tweet)
One of the most amazing things that happen once you start sharing your story openly is that people start to crawl out of the woodworks to share theirs with you. You start to build so many more, and much deeper, connections online than ever before.
This is truly the case regardless of the social platform that you're on.
"I never would have expected so many people on LinkedIn would reach out to me as a result of sharing that I had cancer." @sohnsocialmedia (click to tweet)
The fact that Tim saw such a tremendously positive response on a professional platform such as LinkedIn speaks to our core message that there is so much power in personal stories.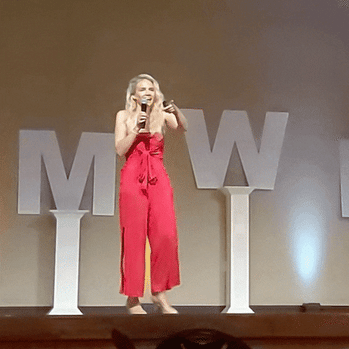 Sharing vulnerably catches our attention because it is human and real, making it relatable and something that touches our hearts. This is the kind of content that drives engagement; a depth of connection comes as a result of the depth of the topic shared about.
Putting It All Together:
If you want to start to share more powerful and personal content, it's all about leaning into your humanity.
"The most important part is showing up; don't worry about being perfect or writing a script ahead of time." @sohnsocialmedia (click to tweet)
For brands, there is an opportunity to start to show off their team more and let their personality - collectively as a brand and individually as team members - shine through.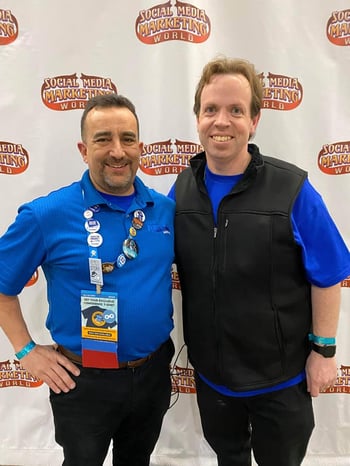 For individuals wanting to shart sharing through live video, one idea is to invite your close friends and family to show up to watch. Knowing that a few faces are there will make you feel supported when showing up to share vulnerably.
The reality is that sharing in a vulnerable way isn't easy to do and there might be days you don't feel like showing up and telling your story, but when you do, you see how truly worthwhile it is.
When you share from the heart, you're able to feel the love in the comments and a beautiful and memorable energetic exchange takes place that changes everyone involved for the better.
When it comes down to it, it's not about selling anything at all; storytelling is all about creating deep connections.
"Being a good human is the ROI. If you're showing up as you are and building relationships, people are going to remember you and refer you and that's always something that creates ROI." @jessikaphillips (click to tweet)
If you want to learn how to lean into the power of storytelling more, we highly recommend that you mark your calendar to watch Tim's live show with his bestie Kara Oelker on Tuesday evenings at 8 pm EST as well as the Tim & Jim Show!
What's one way you plan to lean into more personal content this year? Share your ideas below!