As we navigate through challenges that interrupt how we do business, it's important to understand that it's through these challenges that we find true character. I just saw a quote from Ed Bastian, the CEO of Delta Air Lines… he said,

"Crises don't build character, crises reveal character."

What we do now, as marketers and business leaders, is what will be revealed as the character of your brand or business to your community of employees and team members, audience members, fans, followers and collaborators.
Many businesses are questioning whether they should continue their social media marketing if their business is temporarily closed, or is running on a limited capacity. The answer is a resounded YES! Social is more important now than ever before. It never closes. It keeps you personally and professionally connected. Social media allows you to continue two-way conversations with your clients, community, team members and prospects at any time… from anywhere!
What should you post?
In crisis situations, it's important to assess the climate before you start or continue to post like it's business as usual. Changing your content to address what's happening will keep you from appearing tone-deaf to your audience. We've outlined some do's and don'ts as it relates to your marketing message during times of crisis.
Marketing DO's
Do a quick audit of your social channels, Google My Business and other local directories to make sure you have updated business information - if your hours have changed or services are temporarily limited, make those updates as quickly as possible.
The crux of Relationship Marketing is building community. What information does your community need? Share helpful and timely resources to build genuine relationships with your audiences… remember great marketing is selfless, it's not all about you.
Post open-ended questions to prompt engagement so you can get to know your audience.
Be creative and innovative with your posts and actions. For example, we had a client who owns a restaurant and was facing the threat of his business closing temporarily but after brainstorming non-traditional ideas that would not only serve his community but help keep his doors open the client has been inundated with carry-out orders and flooded with support and kind messages.
Use video to communicate with your audience - don't be afraid to go live and show some behind the scenes footage. The people behind the brand.
Do continue your Ads - they're super in-expensive right now and can still have a positive impact IF you follow these 3 tips outlined in our guide.
Talk about the steps you're making internally and be transparent about what's going on.
Keep team communication and collaboration rocking. Use video chat technologies to check in with your team. Many are working remotely - who may not have ever had that option - so moving from an office environment to a solo situation can make your people feel disconnected. Look for ways to connect as a team and keep the morale up.
Stay positive and uplifting

Highlight those great moments happening in your business - team birthdays or positive customer experiences; share a team member spotlight or a valued vendor feature - spread the love.
Share fun ideas to build community.
Shine the light on others doing amazing work.
Join or facilitate a group around helping and serving others. Check out these two examples...
Encourage your team as they're going through this. And be sensitive and adaptable to the challenges they're facing - each situation is unique.
Be human and understand that nothing is ideal right now and we must be flexible, understanding and compassionate.
Remember this is meant to be physical distancing but you can still keep the social interactions going!
Build a solid work routine using tools that can help you focus like the Pomodoro method

.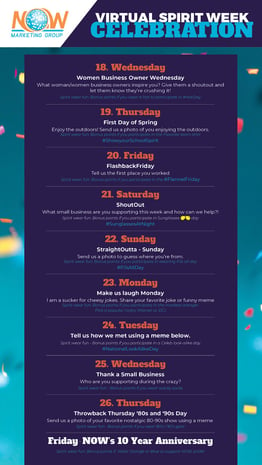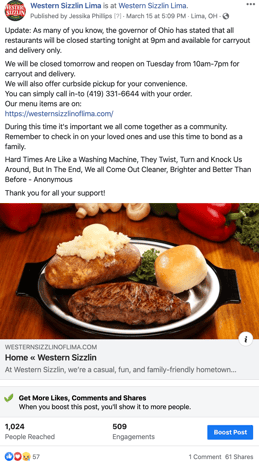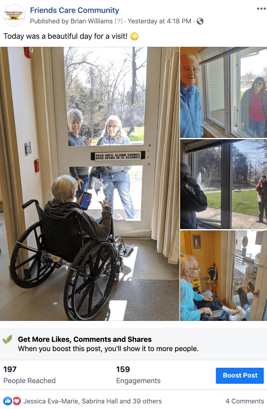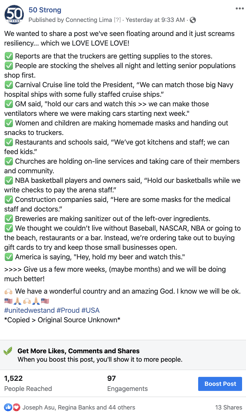 Marketing DON'Ts
Don't keep running the same ads as usual or posting as though it's business as usual. Be relevant.
Don't stop posting and ignore your online community by not responding to messages.
Don't share unsourced news on your site that isn't a trusted source. It may start a conversation you aren't prepared or qualified to answer. Remember advice shared on social channels under your brand page is professional liability.
Don't place Ads targeting people who are suffering.
Don't make jokes about what's going on. Levity is important, but not at the expense of others.
There's a Tony Robbins quote that sticks with me.
"No matter how difficult the situation, it won't last forever. What follows the night is the day. What follows the winter is spring." @TonyRobbins (click to tweet)
Investing the time and energy you can during those "winter" seasons will help make the "spring" that much more abundant. Take this time to deep dive into your business.
Update your website with new online features
Spend time refining your personas and business plan
Look at ways to develop an online sales process
Clean up email lists and work on a plan to grow it!
Update your brand messaging
Spend time up leveling your skills with some of the free training available right now.
Remember... challenges and crises reveal character. Stay strong. Stay positive. Keep moving.