Social Media Week Lima 2022 is coming up and we are seriously amped!
Laughter, learning, selfies, networking, content creation stations... we're co-creating it ALL on June 15 + 16, in Lima, Ohio!
We're breaking down everything you need to know about our upcoming event!
Who Should Attend SMWL:
If you're a marketer and/or business owner, you know how important it is to keep up with the constantly changing landscape that is social media. You also know how valuable it is to have peers in the industry that "get you" and can help you stay on top of trends and spot new opportunities.
That's where we come in -- SMWL feels like a big-city conference in energy and value, with a small-town level of intimacy and relationship building.
We are SO excited to bring people together to learn, laugh and co-create.
>>> If you want to enhance your marketing efforts and magnetize the right audience for your business, this event is for you.
>>> If you'd like to spot new opportunities to co-create with your community as a brand, SMWL is for you.
>>> If you want to connect with amazing humans, our event is for you.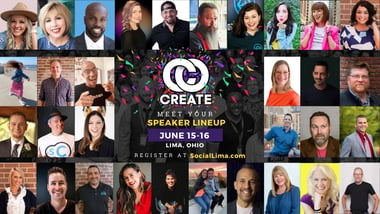 Who Is Speaking:
We've got a value-packed lineup of 30+ of the industry's most dynamic speakers coming in to discuss the art of co-creation and why it's so important to lean into the power of community.
These are speakers with heart, passion, knowledge, skills and SO much freakin' energy!
Not to mention, they take the time to truly build relationships, are fully accessible and are happy to spend one-on-one time during breaks and roundtables to "talk shop" with attendees.
As we said, we're not your average conference. Just look at this agenda:
Day 1: June 15
#SMWL22 KickOff Opening Remarks | Chad Illa-Petersen
Entering the Metaverse: A CoCreate Commerce Experience |

Jessika Phillips

The Future of VR in Business | Mark Suter
How to Generate More Leads by Crafting your Unapologetic Message | Bri Seeley
NFTs for Small Business and Entrepreneurs | Brian Fanzo
Future-Proofing your Brand: 3 Ways to Prepare for Post-Pandemic Marketing | Juntae DeLane
Panel - CoCreate Collabs, Commerce & Community Advantage | Katie Brinkley, April Spencer, Sara Kelsey, and Andrew Wehri
A Relationship Growth Engine | Jordache Johnson
Creating a Sustainable Online Strategy using LinkedIn | Judi Fox
The Remarkability Formula | Rich Brooks
Day 2: June 16
Not only is this a group of well-versed, knowledgeable speakers, but each individual has a heart of gold. We are proud to call these folks friends because of HOW they show up, and we know that they're going to blow you away.
What Co-Create Means:
The explosion of NFTs (non-fungible tokens) is showing us that the future of marketing is letting a community decide the value of a piece of content.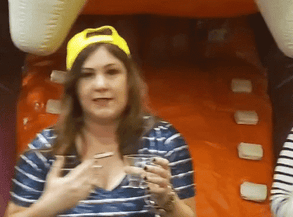 This means that as brands, we have the opportunity to lean into the power of co-creation to truly work WITH our communities to feature them as a part of our marketing messages.
Co-creation is all about coming together with like-minded people to create value for both of your audiences in a way that benefits everyone involved: both creators AND both audiences.
As brands, when we take the time to co-create content, moments, and experiences, it shows that we truly CARE. That is the difference that makes the difference, and it's what makes us memorable, builds relationships, and ends up driving repeat and referral business.
When + Where It's Happening:
Our 10th annual conference will take place on June 15 + 16, 2022 at the UNOH Event Center located at 1450 N. Cable Rd. in Lima, Ohio. (The 25,000 square foot all-purpose event center is handicap accessible and accommodates nursing mothers with a private nursing lounge.)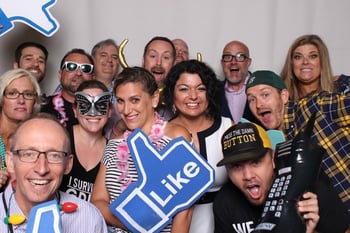 We encourage out of towners to learn more about our hotel and travel accommodations, as well as the amazing Legacy Arts District that we're proud to be involved with.
Why You Should Attend:
Believe us when we say that Social Media Week Lima isn't your average conference. We don't do boring.
It's filled with passion, energy, and heart.
We're also committed to making sure that you leave with connections, ideas, and advice on amplifying your social media strategy.
With our theme of Co-create, we guarantee that you're going to have opportunities to create real-time content to showcase what you've learned, engage your audience and humanize your brand.
How To Get Involved:
First, you've clearly got to register for the conference if you haven't already!
The early bird sale (which gets you in for under $150!) ends on May 1*!
*Tickets will still be available for purchase after May 1.
Sponsorship Opportunities:
We have a variety of sponsorship opportunities available for brands that are looking to be seen in front of hundreds of marketers.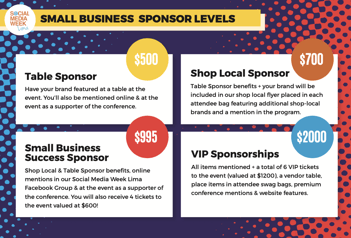 We're looking for partners that align with our audience of marketing experts, speakers, and hundreds of attendees from around the country.
That said, we already have an amazing group of sponsors on board set to make SMWL22 the best year yet!
THANK YOU SPONSORS: Wave.video, UNOH Event Center, Lima/Allen Chamber Of Commerce, Cathy Nolan Art, Westgate Entertainment Center, and Effie's Boutique. We TRULY could not do this without you!
Register today for SMWL22 where you'll leave with new relationships, fresh content ideas, and inspired energy to drive your business forward!