If there's one thing every social media marketer knows, it's that the industry is constantly changing.
Changes happen every day, so it's so important to be in the know.
That's why we're sharing the latest social media updates in May 2022.
Social Media Updates in May 2022:
Here are the things you've gotta know, broken down by platform:
Twitter:
Elon Musk bought Twitter for $44B, and all we can say right now is, wow. We're very eager to see what this means for the future of the platform.
Twitter is testing an option for users to be able to attach video images, photos, and gifs into a single tweet. We think this will be a nice way to add more media to enhance the impact of your tweet/tell your story!
Instagram:
A new report highlighted that hashtags do not significantly increase engagement on a post. This is interesting because hashtags used to be

"the it girl,"

and now it seems like they pack less of a punch. This is something that we've been testing as a team and seen is definitely the case.
In another move to follow in the footsteps of TikTok, Instagram said that they launched a live test of pinned posts for profiles. This functionality would let you pin a piece of content, just like you can on TikTok or Twitter, so that it appears at the top of your feed.
Given that TikTok expanded its recording time, we aren't surprised to hear that Instagram is testing 90-second reels. We'll be interested to see whether people end up recording that much!
Meta:
The brand announced the launch of its first retail store that will showcase its hardware products like VR headsets. We'll be interested to see how the store performs and what the adoption of their products looks like in the market.
LinkedIn:
Apparently, LinkedIn is where it's at. According to the platform, it has seen record levels of engagement lately. This means there's a great opportunity for brands to be more active on the platform to drive more conversations and build relationships with their audience!
The reality is that change is the only constant in the social media industry, and it can be exhausting to stay on top of everything all of the time.
"It's hard for brands to keep up with what's working and how to get in front of the right people." @jessikaphillips (click to tweet)
That's why we're SO excited for Social Media Week Lima; it's where you go to stay up to date with the shifts happening in the industry.
Social Media Week Lima:
Who Is Coming: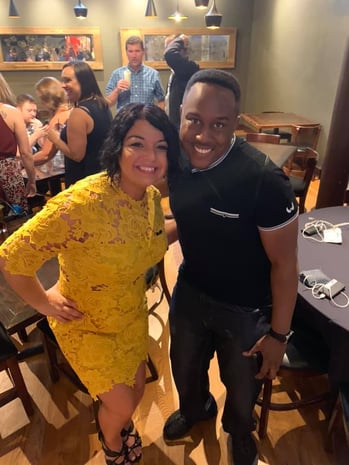 300+ marketers, business owners, and leaders from around the world are going to come together to learn, network, and co-create.
>>> If you want to meet people that "get you" in your passion for community building, this event is for you.
>>> If you'd like to spot opportunities to co-create with your community as a brand, SMWL is for you.
>>> If you want to learn from the industry's most knowledgeable leaders, our event is for you.
Our Agenda:
We have an amazing lineup of 30+ experts that will be sharing about everything from live video to NFTs to Web 3.0 to LinkedIn.
Our speaker lineup is passionate, heart-centered, kind and energetic, and ready to share their tips and tactics with you.
The best part? >> The intimacy of our event means that you have the chance to get actual one-on-one time to ask questions and talk shop with both speakers and attendees.
SMWL is not your average conference. Just look at this agenda:
Day 1: June 15
Day one is ALL about learning and setting the foundation of what you need to know in order to take action on Day 2.
#SMWL22 KickOff Opening Remarks | Chad Illa-Petersen
Entering the Metaverse: A CoCreate Commerce Experience |

Jessika Phillips

The Future of VR in Business | Mark Suter
How to Generate More Leads by Crafting your Unapologetic Message | Bri Seeley
NFTs for Small Business and Entrepreneurs | Brian Fanzo
Future-Proofing your Brand: 3 Ways to Prepare for Post-Pandemic Marketing | Juntae DeLane
Panel - CoCreate Collabs, Commerce & Community Advantage | Katie Brinkley, April Spencer, Sara Kelsey, and Andrew Wehri
A Relationship Growth Engine | Jordache Johnson
Creating a Sustainable Online Strategy using LinkedIn | Judi Fox
The Remarkability Formula | Rich Brooks
Day 2: June 16
Day 2 is the day we roll up our sleeves and get to work, helping you implement what you've learned.
Our Theme: Co-Create
Web 3.0 is truly about creating experiences for our communities; that is what co-creation is all about.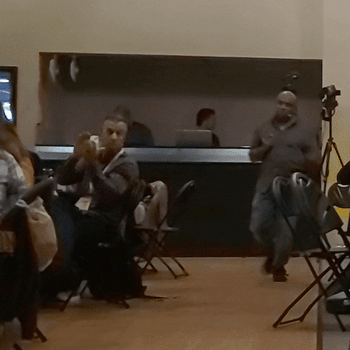 We have the opportunity to co-create with our people and focus on making exceptional experiences that put them in the driver's seat.
"It's about how we can build better experiences in our business whether people are looking for you online or engaging with you on social media." @jessikaphillips (click to tweet)
When you come together with like-minded people like we have down with our downtown office at the Legacy Arts Building, or like Calm is doing with their voice contest, you create more than you ever could alone.
That's the beauty of co-creation; it births value for both audiences in a way that benefits everyone involved.
Co-creating with your audience is beneficial for many reasons; it shows that you care about your community, drives awareness for your brand, and humanizes your content.
When, Where, and Why:
Join us on June 15 + 16, 2022 at the UNOH Event Center located at 1450 N. Cable Rd. in Lima, Ohio. (The 25,000 square foot all-purpose event center is handicap accessible and accommodates nursing mothers with a private nursing lounge.)
Learn more about our hotel and travel accommodations here!
Oh, and get ready for 2 days of learning, laughing, creating, and connecting.
Join The Fun:
You should register for the conference if you haven't already!
With our theme of Co-create, we can promise you that you'll leave with a brain filled with ideas for content for your brand. You'll also have the opportunity to create content in real-time as a way to showcase what you've learned!
Sponsorship Opportunities:
We also have a few sponsorship opportunities still available for brands looking to be seen in front of hundreds of marketers.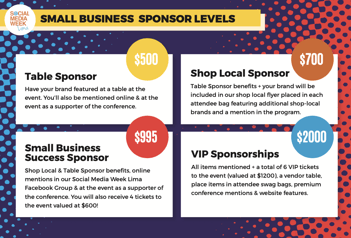 If you'd like to get your brand introduced to hundreds of leaders, marketers, and business owners from around the country, we'd love to discuss the variety of ways that you can get involved in the event.
THANK YOU TO CURRENT 2022 SPONSORS: Wave.video, UNOH Event Center, Lima/Allen Chamber Of Commerce, Cathy Nolan Art, Westgate Entertainment Center, Beyond Laser Creations, and Effie's Boutique. We could not do this without you!
Register today for Social Media Week Lima where you'll leave with new friends, tons of ideas for fresh content, and an energized attitude to drive your business into Web 3.0!