As a marketer, you know that creating quality and consistent content is essential for driving traffic to your website and engaging your audience.
Content is our opportunity as marketers to show that we're experts in our industry, build relationships, showcase our personalities and stay on people's radar.
But what if you don't have the time or money to invest in expensive content creation tools? What if you don't have the bandwidth and resources to do it yourself?
This is where tools come in; there are so many free content creation tools available for marketers to use to help save time without sacrificing the quality of content created.
"I spend a lot of time figuring out how we can make the most of the time we have to show up online that compliments our business goals." @philpallen (click to tweet)
Jessika Phillips and Mike Gingerich invited #SMWL22 speaker Phil Pallen onto Magnet Marketers to take us through the best ones and share his top free content creation tools!
Phil Pallen is a personal branding expert and keynote speaker. His non-conventional approach to digital marketing and talent for social media has built him a global audience. As a brand strategist, Phil has advised hundreds of brands from over 30 countries, including a Shark on Shark Tank, a Nobel Peace Prize winner, politicians, and some of the most important names in entertainment.
A digital nomad and globetrotter, Phil has delivered speeches on five continents and frequently appears as an expert contributor in media outlets worldwide, including CNN, Access Hollywood, and The Daily Mail.
Content Creation Best Practices:
Before we dive into the top free tools you can use to be a more efficient content creator, let's discuss the best practices.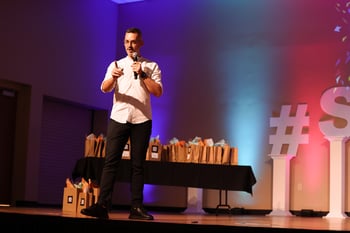 When it comes to good content, we have TWO distinct formulas we like to think about.
The first formula we like to use for content creation is the POST formula.
Every piece of content that you write should aim to follow these four best practices: personalized, open-ended, styled, and timely.
Personalizing your content makes it feel tailored for your audience, which will likely grab their attention and make them feel good. Using open-ended questions and statements helps to drive engagement and spark a conversation. The style of your post helps you showcase your personality and become memorable, and being timely is what will help you spark meaningful and relevant conversations with your community.
The second formula that we like to think about when it comes to content marketing is the idea of showing up to CARE. We like to think of CARE as a flywheel -- where every piece of content and interaction is an opportunity to: capture attention, articulate your message, build relationships, and exceed expectations.
By keeping these two formulas in mind, you'll end up crafting posts that are topical and relevant to your audience, interesting and engaging, and discussion-worthy! This content will show you care, create conversations and make your brand memorable.
Now that you know how to best structure and approach your content marketing efforts, it's time to dive into the top free tools you can use to help you save time in doing so.
The Top Free Content Creation Tools:
If you do a Google search for social media tools, you will find hundreds of search engine result pages listing thousands of different tools available.
Figuring out which tools to use as a social media marketer is half the battle because picking the wrong tool can cost you time and relationships. The wrong tools will leave you feeling even more overwhelmed with the idea of crafting quality content consistently.
That's why we invited our friend Phil Pallen to share his advice; Phil has years of experience and is an expert in content creation, branding, public speaking, and the art of figuring out which free tools are worthwhile.
(Note: Phil walked us through each tool, using the same keyword of personal branding to show us the results of how each tool works, so go peep the episode if you're a visual learner!)
This awesome, freemium tool will ensure that you never run out of things to talk about.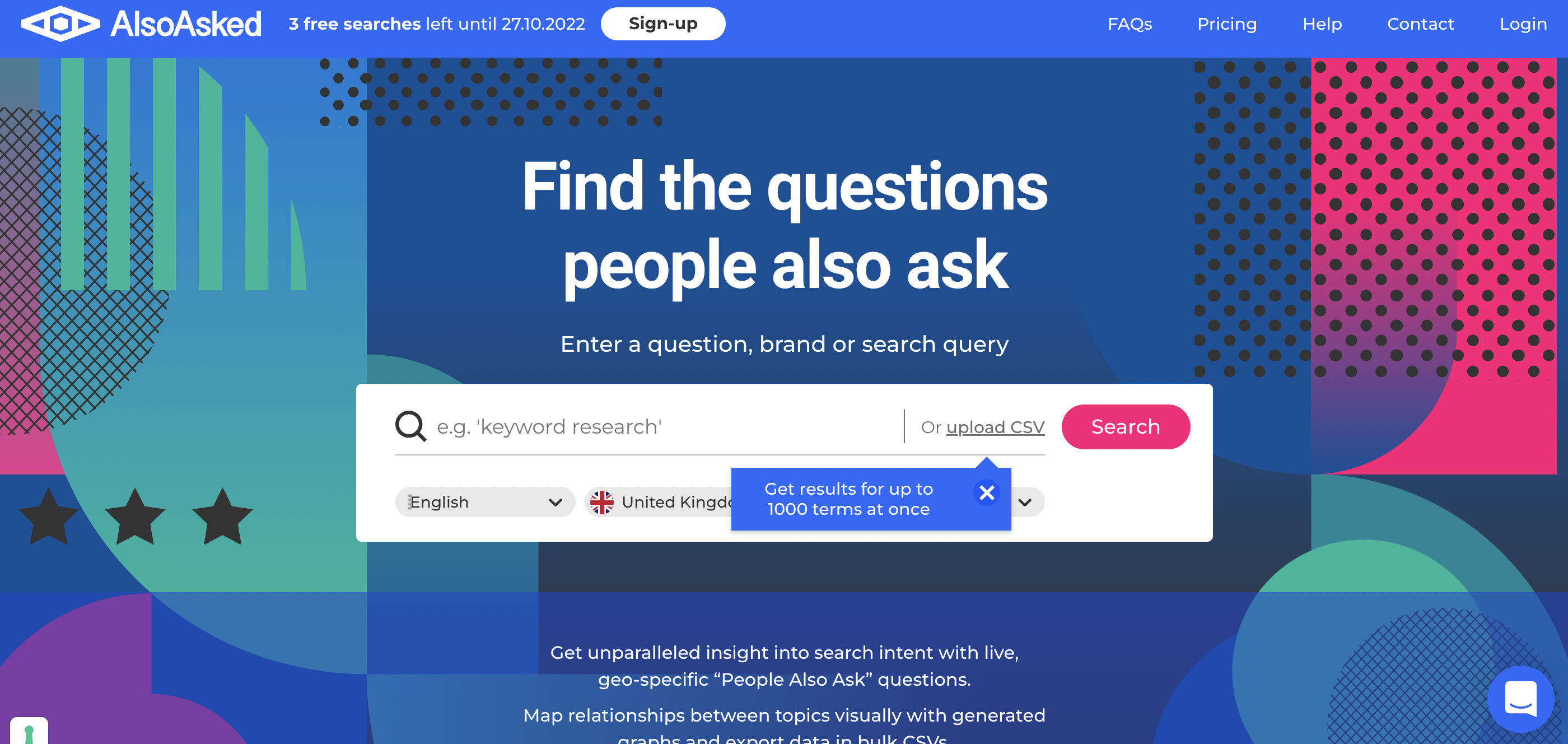 How it works: you get 3 free searches per month to enter a keyword and find the questions that people are asking surrounding it.
As a content marketer, it's important - and powerful - to know the questions people are asking so that you can provide the answers and show up as an expert in that arena.
"You're never out of ideas, sometimes we just need a tool to remind us where there is a need for our expertise." @philpallen (click to tweet)
When you enter your keyword into this tool's search bar, you get a great visual representation that shows the keyword and variations of how it can be phrased. It shows a huge list of questions that you can then use to figure out what kind of content to craft.
"These tools are amazing for helping to come up with ideas for your short-form content for Reels and #TikTok." @jessikaphillips (click to tweet)
This tool is short-form content gold because you can use each question it spits out and turns the answer into a piece of content. This is the kind of content that is binge-worthy and will help position your expertise in that area.
This is another great tool to help amplify your content creation efforts.
How it works: Simply type your keyword into the tool and get prompts to help you create content.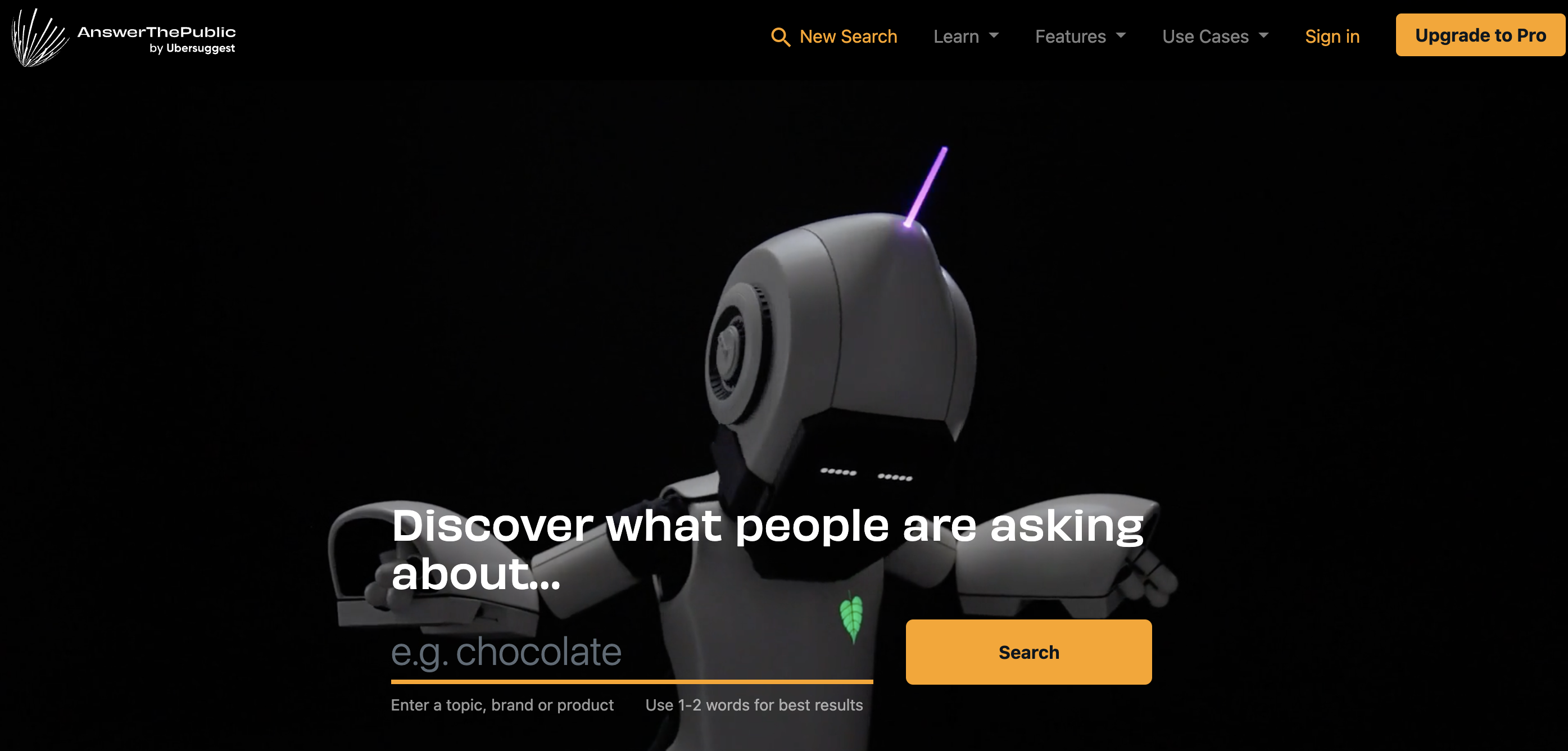 The way that the results are visualized helps you understand what you can craft as a creator and will spark new ideas.
One of the best parts? >> You can even export a spreadsheet of the results so that you can refer back to it for content ideas and to check out the monthly search volume for specific topics!
This tool is great because it helps you find your audience's source of influence.
How it works: You can type a keyword and/or choose a specific context (for ex: my audience frequently visits the website, and you enter a website) for the search, and then you hit "discover now." It shows you an overview of where online you can find your audience talking about that keyword.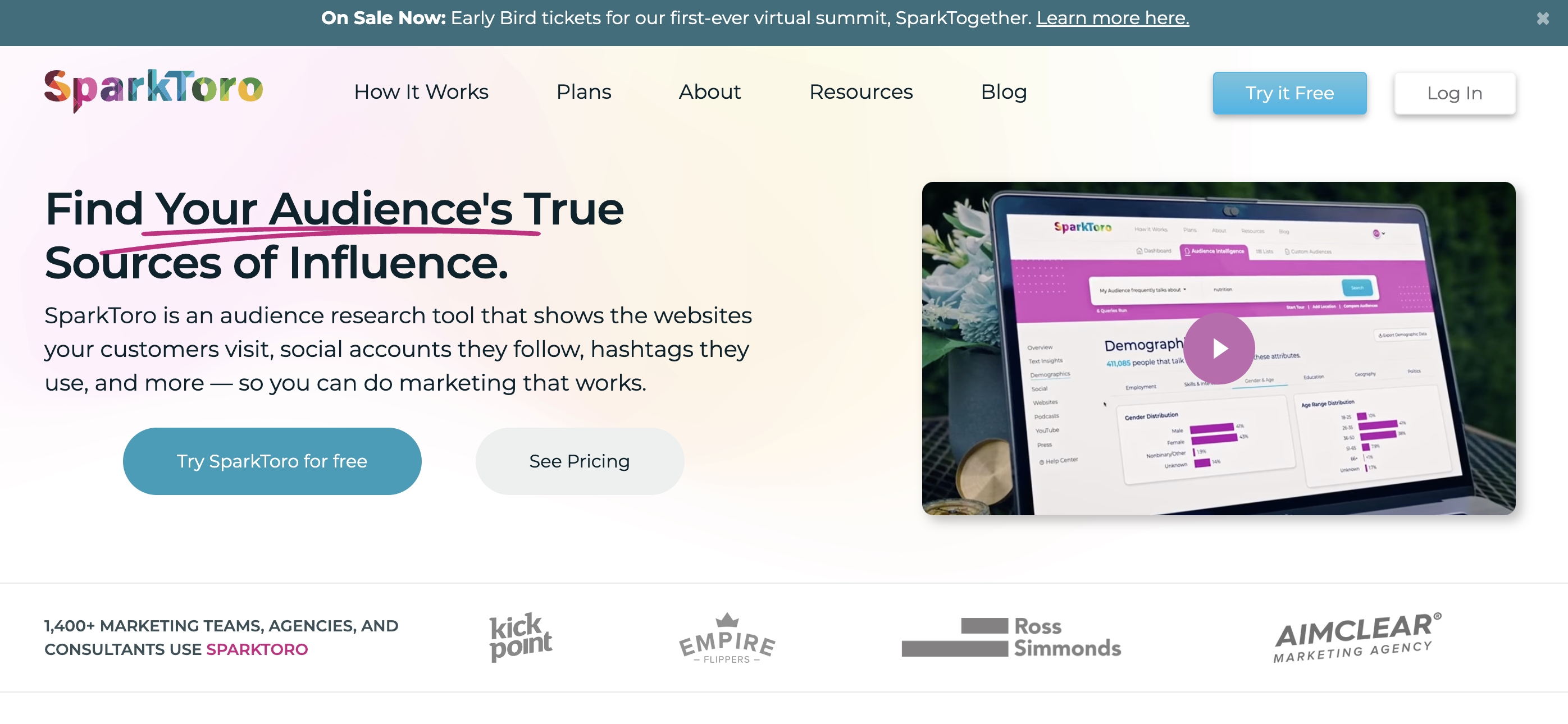 This is fantastic because it will help spark ideas for content that are meaningful, valuable, and relevant to your community.
"Talk about what your audience cares about, and follow the people that talk about the things that you're passionate about! Be a fan and engage first, and then you can get fans back." @jessikaphillips (click to tweet)
Another awesome feature? >> You can filter the results, and they give you up to 10 free searches per month. (Hint: Phil says he thinks it's all you need, so get started today!)
All brick-and-mortar businesses are going to LOVE this one. While it's not completely free, they have a free aspect that is so cool!
How it works: Enter a zip code and the tool breaks it down into 1 of just under 70 categories. These categories are very specific descriptors of all different audiences and customers in the US.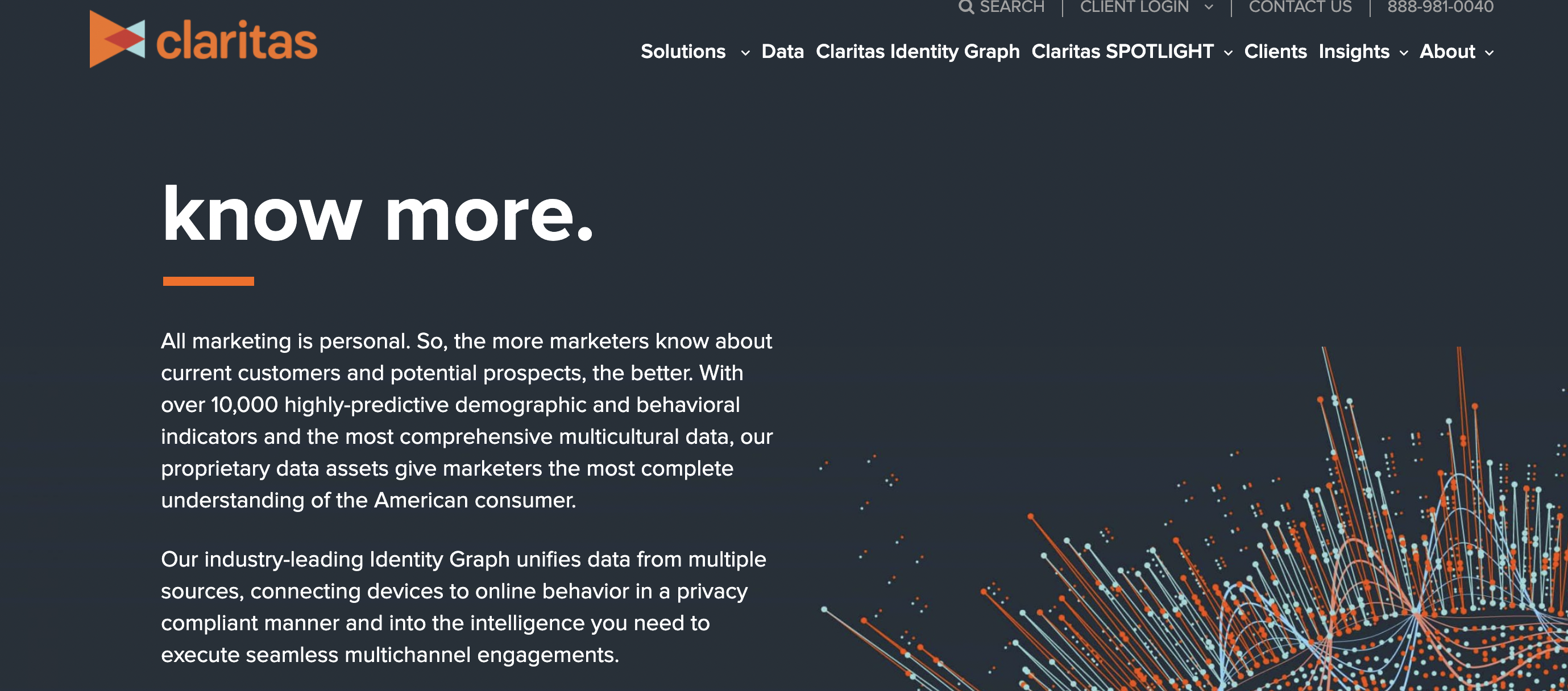 The tool gives you a highly detailed profile of specific audience characteristics AND a description of behavioral elements that you can use to fuel more specific ideas for targeting your audience.
For instance, in Phil's zip code, the search showed that people drive Kias. Perhaps you test around by adding some of that specific language into your content to relate to your local audience.
This free platform is so powerful because they bring Abode-level design to folks who aren't graphic designers.
How it works: Simply select from a wide array of creative and well-designed templates and options to create stunning graphics and videos that wow your audience.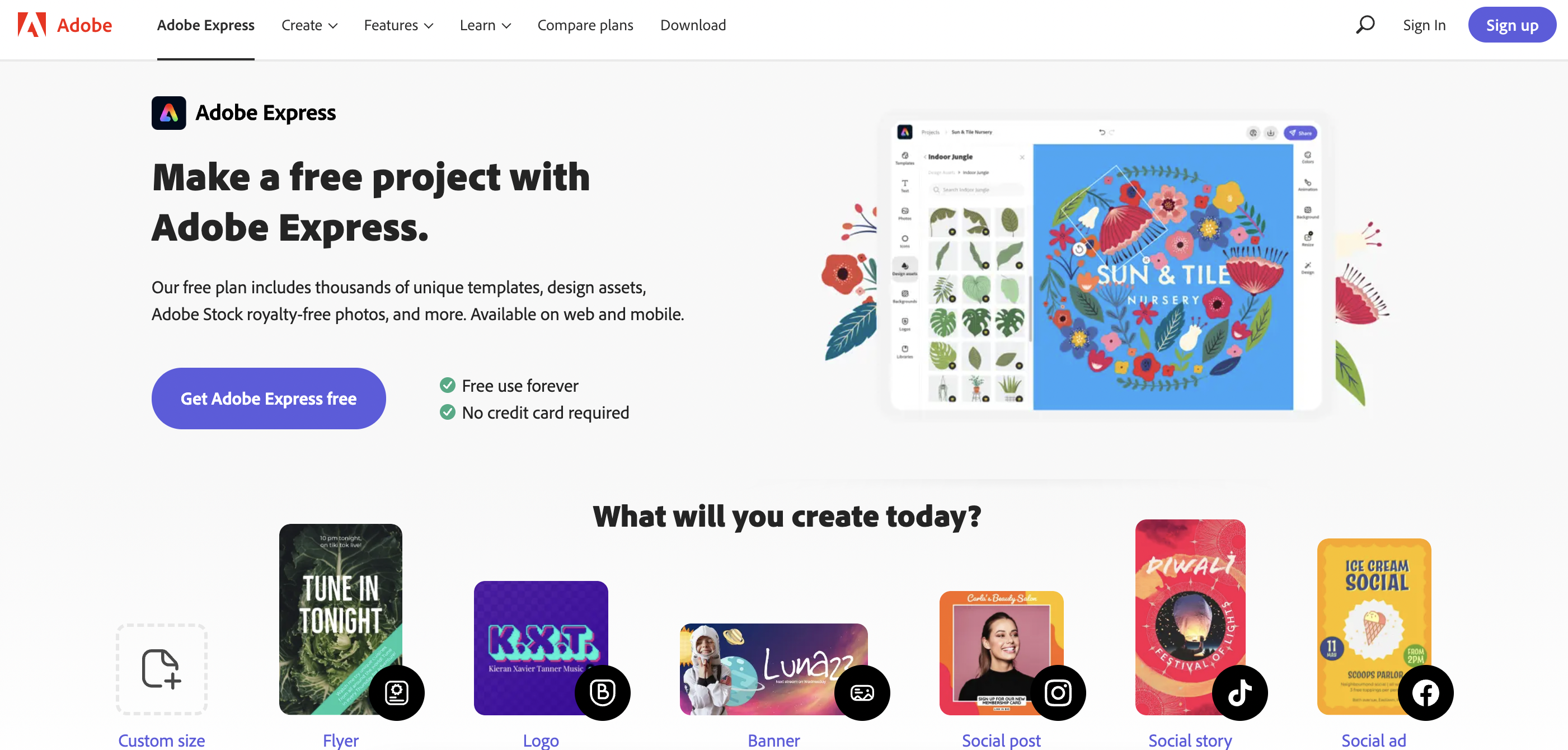 The templates help you get started with design, quickly - whether you want to make a QR code, video, or graphic for social media.
The designs are sharp and the stock photo library is very strong and completely integrated into the tool which is so nice. Not to mention, you can set up your brand fonts and colors completely in the tool which lets you start creating quickly.
Did we mention that it's free? …yea, you'll want to add this one into your toolbox today.
Putting It All Together:
Tapping into the plethora of free social media tools is an effective way to save time as a content creator because they help you be more efficient in your writing without sacrificing the quality of your content.
Each of these tools has the power to fuel new ideas and ensure that you never run out of ways to engage your audience and provide value to your community.
Oh, and the best part? >> Phil has so many good freebies available, so go snag them to step up your content game and truly never run out of ideas.
What do you think? Are you using any of these tools? Do you have a tool that you'd recommend we add to the list?
We'd love to hear from you! Let us know in the comments below!