If there's one thing that any brand can attest to, it's the power of stories. The more we incorporate storytelling into our content, the stronger sense of community we create.
Why? Because stories tap into emotions, which makes them stick in our memories.
Coming up with unique ideas for stories for your business can be difficult, which is why we sat down with Melanie Deziel, keynote speaker, author, and award-winning branded content creator.
Melanie is the Director of Content at Foundation Marketing, and the author of bestselling Marketing and Business Communications book "The Content Fuel Framework: How to Generate Unlimited Story Ideas". Prior to joining Foundation, Melanie was the Chief Content Officer of StoryFuel and the first editor of branded content at The New York Times.
Where Brands Struggle With Storytelling:
Despite knowing how powerful storytelling is, brands often struggle to incorporate it into their marketing for two reasons.
First, there is the overwhelm to be everywhere.
"You have to be omnipresent, somehow you're supposed to have a podcast and going live, and making TikToks, and running your company somewhere in there… that creates a lot of overwhelm." @mdeziel (click to tweet)
It's hard to do things the right way when you're just jumping from one platform to the next.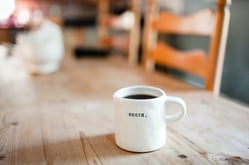 Second, we're often falling victim to the comparison trap.
It's easy to look at large enterprises and feel like we're not doing enough. The issue with making comparisons like that is that we're comparing ourselves to big companies with multi-person teams!
"We measure against a false reality which creates pressure to do everything." @mdeziel (click to tweet)
This makes us shut down and build a wall, which is why we're grateful for leaders like Melanie that help us get out of those mental ruts.
"Most of us got into the business we're in because we love that business… and many of us weren't initially trained to be podcast producers and video editors, and now suddenly that's your job!" @mdeziel (click to tweet)
Through her work, Melanie helps people find a way to put their time into creating content that has the most impact as possible.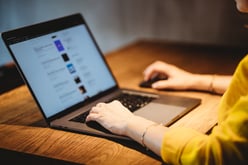 As brands, it's important for us to remember that the best thing we can do is focus on the things that make the biggest difference for us.
How To Think Like A Journalist:
If we want to become better storytellers, we need to shift our mindset away from marketing and towards journalism.
As marketers, we tend to think of format first. (Video, blog, photo, email..)
However, strong and authentic storytelling is all about focusing on the story and the message. That comes first. Format comes second.
Start with the story, then think about the best way is to tell it.
"Your content will perform so much better if you really focus on the message and the story, and then think about the best way to bring it to life." @mdeziel (click to tweet)
Journalists understand that strong stories are SHOWN, not told.
"Focus on creating content that demonstrates your expertise, versus spending twice as much time telling everyone what an expert you are." @mdeziel (click to tweet)
How To Generate Story Ideas:
Ever hear of a newspaper or digital publication making a post saying "sorry, we ran out of story ideas today?"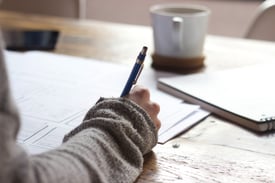 ...yea, it doesn't happen. Journalists don't struggle to come up with ideas for stories.
However, marketers do all of the time. We struggle to find fresh takes on our products and creative ways to incorporate story into our messaging.
By thinking outside of the box and using the Content Fuel Framework Workbook, you can generate tons of ideas!
"So many times, we just need our brain to be given a direction." @mdeziel (click to tweet)
So, let's do just that.
Here are three big ideas that your brand can use to create concepts for stories:
People: Focus on your vendors, community partners, the maker of the product, employees, the people involved in the launch of the product… tell that individual's story.
History: Take a historical approach and go back in time through the history of the product or business. Talk about the past and how things have changed and evolved over time!
Data: Focus on the numbers, facts and figures. Present quantitative results and measurements.
"There are people that are interested in what you have to say… just because you said it a year ago, that's okay! You can present it in another way." @jessikaphillips (click to tweet)
The reality is that there are so many different ways that your brand can tell stories, it's just a matter of getting started.
Using checklists like Melanie's can help you generate ideas.
"Everyone thinks that their product isn't cool, because you're IN it! Sometimes it takes that objective view to remind you of different ways that you can approach it." @mdeziel (click to tweet)
One idea that we have for brands looking to get started today >> Add more narrative to your customer stories/case studies. Everyone knows that testimonials are great content. Start with these and then apply the checklist to give yourself prompts that will help you brainstorm more creative angles for story ideas!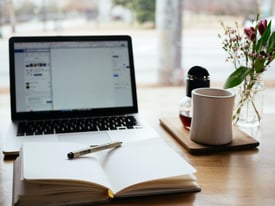 Once you know the story that you're going to tell, it's about figuring out the right format.
Why Format Matters:
Understanding the goal of the story makes it much easier to figure out what the elements are that we need, in a format, to bring the story to life.
It's easy as brands and individuals to get stuck in our favorite formats.
"Everyone has a first-content language. There is a type of content that everyone is most comfortable with." @mdeziel (click to tweet)
Everyone has that instinct, which is why it's so important to have a checklist that helps us get out of our heads a little bit. This helps us to branch out to create different types of content based on the story and our audience.
"Know your first content language and think about how people are going to want to see it and experience it!" @jessikaphillips (click to tweet)
Putting it all together:
The best thing that we can do as brands is ask ourselves whether our content gives people a reason to share it.
We share things for a wide variety of reasons:
We want to entertain.
The content says something about us and our values/opinions.
We want to change people's perceptions of us.
The content connects with us emotionally.
Understanding this allows us to be more creative as brands and craft content that is worthwhile of being shared by our audience.
To truly kickstart your story brainstorming, we recommend doing two things:
Check out M

elanie's printable content resources

. Use code MAGNET for 20% off!
Play a GAME! The next time you're in the grocery store, glance around and ask yourself "how can I connect this?" Think of how you can take a product, or any topic, and make it apply to your audience, industry and products. It's a great exercise to practice!
At the end of the day, our audience is at the center of what we do.
"It's all about the relationships, what your audience expects of you and how you can provide value to them… Adding your personality into the story is going to be the difference that makes all the difference." @Jessikaphillips (click to tweet)
What do you think makes for great shareable stories? Do you have go-to tips for creating more story ideas? Share your thoughts with us below!