Social Media Week Lima 2021 is happening and we are SO excited about it!
Hugs, selfies, roundtables, intimate conversations, and networking…. It's going to be epic.
SMWL is a big-city conference with a small-city mentality; it's BIG in energy but feels intimate and deeply connected.
Our speakers will discuss the biggest marketing trends and technologies, how they work, and how you can incorporate them into your business.
"Coming back to Lima this year for #SMWL21 feels emotional! Cause it's seeing the people; the friends in real life! I haven't gotten to do that!" @Mike_gingerich (click to tweet)
So, what's the who, what, where, when, why, and how of the event?
We broke it all down on Magnet Marketers to explain how we're not the same ole social media conference.
Who Should Attend SMWL:
If you own a business or work in marketing, you understand how important it is to keep up with the constantly changing landscape that is social media.
You also know how isolating this past year has been. It's like, we need HUGS, STAT!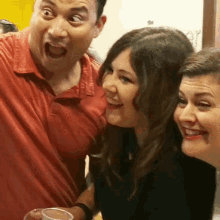 For our NOW team, with so many remote employees, we're going to have the chance to meet IN PERSON for the first time because of the pandemic.
Now, more than ever, our team is SO excited to bring people together to laugh, learn and create lasting connections.
If you're looking to enhance your marketing and magnetize the right audience for your business, this event is for you. If you're looking to better show up as a brand, this event is for you! If you're looking to build real relationships, this event is for you!
Who Is Speaking:
The speaker lineup is seriously the best part of our conference. We've got a value-packed lineup of 25+ of the industry's most dynamic speakers coming in to discuss the art of creating unfiltered content.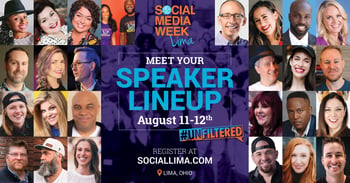 These are speakers with heart, passion, knowledge, skills and SO much freakin' energy!
Not to mention, they are willing to take the time to truly build relationships and spend time at the event.
"Finding ways for the speaker to intertwine with the audience, and that adds a special dynamic to #SMWL21." @mike_gingerich (click to tweet)
As we said, we're not your average conference. Just look at this agenda:
Day 1: August 11
Day 2: August 12
Not only is this a group of well-versed, knowledgeable speakers, but each individual has a heart of gold. We are proud to call these folks friends because of HOW they show up, and we know that they're going to blow you away.
What Unfiltered Means:
The future of social media is dark social - the conversations happening in the inbox that are real, private, and authentic -- AKA unfiltered.
"You can't fake it anymore. That's why the theme this year for #SMWL21 is #Unfiltered. Because it's all about creating those REAL conversations." @jessikaphillips (click to tweet)
Consumers are having conversations about our brands in chat, email, and text, and they account for business, web traffic, and our reputation!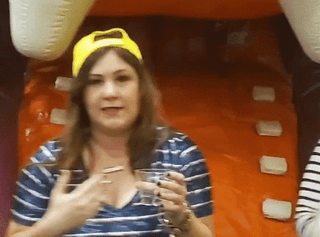 "When consumers have something to share, they're more likely to head to dark social channels to do so (63%) rather than open social media platforms (54%)." –Global Index
Dark social is only going to continue to shift how we communicate with clients, which is why we have to invest in building relationships with them -- so that we are invited to the conversation and worthy of being talked about.
When + Where It's Happening:
Our NINTH annual conference will take place on August 11 and 12, at the UNOH Event Center located at 1450 N. Cable Rd. in Lima, Ohio. (The 25,000 square foot all-purpose event center is handicap accessible and accommodates nursing mothers with a private nursing lounge.)
We encourage out of towners to learn more about our hotel and travel accommodations, as well as the amazing Legacy Arts District that we're proud to be involved with.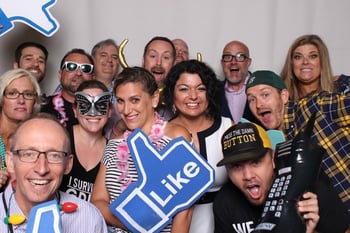 Did we mention that we're having a Street Party in downtown Lima on Sunday, August 7, 2021!?
So, if you're in the mood for a summer road trip that involves expanding your network AND your skillset, we've got you covered.
Why You Should Attend:
Social Media Week Lima isn't your average conference. It's filled with passion, energy, and heart.
See? We weren't kidding. We don't do boring.
It's also jam-packed with value and advice on the best social media strategies.
And with our theme of Unfiltered, you can bank on having real, authentic, and private conversations with fellow attendees AND the speakers themselves. Because our event is ALL about community and relationship-building.
"If you don't know your why, and have the heart behind it, it doesn't matter what tool you use. It's not ABOUT your tool. It's about your technique and we're going to dive into that at #SMWL21." @jessikaphillips (click to tweet)
How To Get Involved:
Obviously, you should register for the conference if you haven't already.
The early bird sale (which gets you in for under $200!) ends on July 1*!
*Tickets will still be available for purchase after July 1.
Sponsorship Opportunities:
We have a variety of sponsorship opportunities still available for brands looking to get their name in front of hundreds of action-takers! Not only did we feature 26 internationally-known influencers as speakers in 2019, but we had a packed house!
We're looking for partners who align with our audience of marketing experts, speakers, and hundreds of attendees from around the country.
Thank you SO much to our headline sponsors Agorapulse and UNOH and gold sponsor, Beyond Laser Creations. We TRULY could not do this without you!
Register today for SMWL where you'll leave with fresh ideas for what your business can do to attract and build relationships that matter!