Growth drive design minimizes risk and helps you learn as you go
What if I told you you've been designing websites all wrong?
Intrigued? You should be, because there's a new way to create websites that will be way more effective in making sure your website is successful. This new method is called Growth Driven Design and it focuses on learning about and adapting your website as you go, so you'll always know what's working, while pushing potential customers down the customer funnel.
With a growth driven design you'll work on gaining real impact while shortening launch times. You're not doing everything at once, your "sprinting" to specific goals.
So why does it make sense for your business?
Well for one, you minimize risk. Let's take for example the website old formula. You spend anywhere from $15 to $50 thousand on building and designing a website (depending on your market..our costs to clients are around $6k- $10k), without any guarantee of what's being built will be high-performing. You spend three to four months waiting for the site to be complete.
Your design work is all subjective, and isn't based on data at all. Maybe you went over budget and out of scope. Maybe by the time you have the website ready it's late and someone else has beaten you to the punch.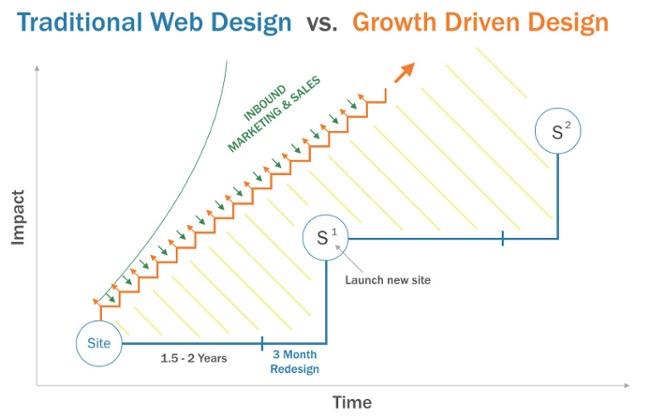 Then, you will wait up to two years (sometimes longer) to update and rework the website.In the mean time your site lacks the updates needed to really tell your story effectively.
Growth driven design instead helps you learn and improve, continuously, by making informed improvements, based on what's working and what isn't. You'll test and research what your potential customers want by learning about visitor behavior.
This also informs your marketing team while integrating the sales team into the whole process. What you learn from visitors will help create strategies for both marketers and the sales team, improving how your team not only attracts people, but that visitors turn into customers.
If you're always learning, you can improve all the time.
Michael Skeehan, with Salted Stone, said it best: "Growth-Driven Design implicitly acknowledges that there's so much opportunity for generating business online that any organization of moderate size, or with those aspirations, ought not approach their website as a static fixture."
Think of it this way: your website is a 24/7 sales representative, and By 2020, customers will manage 85% of their relationship without talking to a human. Why would you wait for lengthy upgrades, that solve problems too late in the game?
With growth driven design you'll test, learn, adapt, and grow! Get ahead and stay ahead of the game.
This will bring results and value to your potential customers. Learn more about growth driven design by checking at this great resource.