As I sit and take stock of this past decade, there have been trials and celebrations, crazy moments and quiet ones - all of which helped to shape and define who I am today, as well as build and grow this agency into a brand I am proud to have as a reflection of these past 10 years.
I want to share with you a few of the MANY lessons I've learned along this journey.
I can still remember the sweet sound of my grandma's voice saying, "cherish your youth young'n, because when you get my age the years disappear in a blink of an eye." While I'm not my beautiful grandmother's age just yet, I am beginning to understand the wisdom she was passing along.
You see, the past 10 years building and growing a business have felt like a lifetime. Yet at the same time, it seems like it was just yesterday I was reflecting on my business journey after reaching that five-year milestone. And if you would have asked me then, I would have said the same... those past five years felt like a lifetime and a blink all at the same time.
Forbes had published an article a few years ago, and with all the challenges and changes in the business climate this number may have changed, but they shared the stat >> ⅓ of businesses don't reach the 10 year mark. Isn't that crazy! I was SO looking forward to 2020, as it meant I was part of that third… that resilient 30%.
We all have a LOT of lessons learned from 2020, but one of my "many" is that in order for us all to thrive - not just maintain and exist, but build and grow - we need to lean in and help one another. My business has been thriving and growing because I've been able to align myself and my business with mentors and my #GoodVibeTribe to help guide the way, and I try to do the same for others… help guide the path.
I've had an idea lying on my heart this past year… to share some of the most impactful lessons I've learned along my journey. My hope is that if there is at least one other person who sees themselves in one of the stories and they find value from knowing there's light at the end of the tunnel, or have found a way to work through a difficult situation by taking a cue from my "lessons learned". If that's the case, then I will be a happy lady.
So here it is:
10 Years, 10 Lessons- My business Journey Story (so far)...
1. It takes a village to raise a child and a community to grow a business.
Raising three daughters, who are now teenagers ("Lawrd help me"), I can honestly say, the adage, "it takes a village to raise a child" is super accurate. I reached out to family and friends for advice and guidance as they were babies and toddlers and tweens and now, more than ever, for advice on surviving the teenage girl years.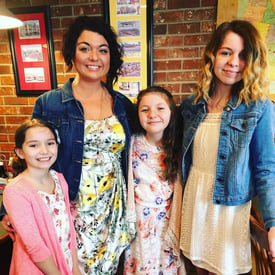 The village is always there and I'm stronger because of them, my girls are stronger because of them, and my relationship with my kids and my family and friends is stronger because it was built on a foundation of trust and guidance.
Flip the script.
As a business owner - and I'm sure other business owners can relate - I often refer to NOW Marketing Group as my fourth daughter. With my human kids I welcomed the guidance, I ASKED for the advice… yet, when it came to my business, I felt like I would be perceived as weak or judged if I asked for help. Why isn't there a saying >>> "it takes a community to grow a business" because it's completely true?!
Asking for support isn't a sign of weakness, it's a sign of strength. I'm going to say it louder for those in the back >> Asking for support isn't a sign of weakness, it's a sign of strength.
Unfortunately, like most lessons we learn, I didn't learn this until many years into my business.
I get it. I lived it. When we start a business around a passion and purpose, it's so easy to give all of yourself to it and guard it like you would your newborn baby. Afraid to have another hold him, feeling very skeptical about anyone babysitting. Sooner or later, however, you will need a break, or advice on what to do the first time your child gets a fever.
When I launched NOW, I invested all of my energy to make sure it was successful. Since it was my passion project, where I felt my purpose called to, it never felt like work. It was super easy for me to lose days, weeks and even years in the business.
My first 5 years in business, I didn't know the meaning of taking time off, let alone asking for help. I remember going on field trips with my kids and still taking client calls, sending emails while eating lunch. I was so concerned that someone would think I was "slacking" if I took a whole day completely detached from work. Soon, what I DID became who I WAS.
I let my identity be defined by the business. I didn't know how to be comfortable without touching every aspect of the business… even though I had a talented team of 10+ who I were rockstars at their craft.
I worked on my business every waking moment from 8am-5pm, spent a few hours with my children after school only to be ready to jump right back online after they were put to bed, and work until 1-3am. This was my life and I didn't see anything wrong with it... well, that was until my father became critically ill in 2018. As it came to be, this was his last fight with cancer. He was left paralyzed and unable to care for himself.
My father was desperately in need of rehab to learn how to walk and speak again. We were told that in order to receive the best treatment it needed to be done at the Cleveland Clinic, 3.5 hours away in Cleveland, Ohio.
While there was always the desire to help and to be there for our father, my siblings had corporate, factory or healthcare jobs, where they were limited with the time they could take. I, on the other hand, wouldn't lose my job for taking days off, it was my company and in my mind - I could work from anywhere.
I still, legit panicked first. Of course, it goes without saying that I wanted to be there with my father but I wasn't sure how I was going to keep all the plates spinning… to keep up with work while being attentive to his needs. This was the first time I would need to reach out for help, to let down my guard and trust my community to have my back.
I stayed with my father for three months at the Cleveland Clinic. His schedule was intense - he started at 8am and worked until 3pm. Therapy session after therapy session in different ends of each hospital floor. I had a choice to make - I could have stayed in his room and worked while he went to therapy, or I could use this time to be my father's biggest cheerleader and the face he needed to see as he was fighting to get the man he knew himself to be, back.
Little did he know that he was really helping me so much more than I helped him. He helped me realize the woman, daughter, mother, leader I could be, simply by allowing myself to be there with him, fully present and let my team do what they offered to do - step up and run the business while I took the time he and I both needed.
While watching him fight to regain his basic human functions - I was also evolving along the way. I realized that my value didn't need to come from the hours I put into my business, but rather for who I intrinsically was; letting my team help, didn't make me weak - it made me human. There will be a time in everyone's business journey where we need to lean into our community and let them do the heavy-lifting for a minute so we can take care of what matters the most and allow others who want to see you succeed, well, succeed.
A brain tumor stole my father's accolades and titles at work… but he was stronger and more determined and more inspiring than I'd ever seen him before. I mean, he's my dad… he's superman, right?
By allowing myself to rely on my team, I wasn't rushing from client call to client call. Instead, I took time to be in the moment with him, for him and it's in those moments where we grew closer than we had the 34 years before. Unfortunately I've lost my dad, but it's those moments, I will cherish forever.
If we're not willing to accept support from our teams and community when we need it, we will lose much more than our business, we will lose the opportunity to create precious moments that are much more valuable.
Lesson Learned...
Take time for the things that matter in life.
Trust the team you've built and the people you've aligned with… your team, clients and friends will be there to have your back. At the end of your years, you'll want to look back with no regrets on how you've spent your most precious asset, your time.


2. If you want to win, you have to play - Dream Big! "Live life as if everything is rigged in your favor."
All of my favorite experiences have come as a direct result of taking risks. The most monumental moments have come from when I took action without knowing the outcome but rather, following my gut and a genuine desire.
One of my most eye-opening lessons came from conversations and experiences missed with my dad. I mentioned above that my father lost his battle with cancer. It was during those final months with him that I really got to thinking about all the things I wanted my dad to be able to do - like a trip to San Diego we had always talked about going, but he never got the time. We had all of these adventures we wanted to take, but we never bought the ticket.
The same can be said about life in business. All too often, we find ourselves sitting and watching from the sidelines admiring what others have achieved and think, man they're pretty lucky. Turns out, luck has nothing to do with it. These people took a risk. They got to work. They said why not and "bought the ticket."
When it came to business, I got tired of playing small and just decided to "buy the ticket" which really just means >> what do I have to lose?
Fear is the single thing that holds most of us back. Fear of judgement. Fear of failing. Fear of a feeling of inadequacy. We can be our own worst enemy when it comes to self-doubt, plagued with internal conversations…
"What if I don't know what I'm doing?" "Who do I think I am applying for this 'thing'?" "What makes me feel like I'm worthy of accomplishing this next best thing?"
Instead of filling our head with all the reasons why we shouldn't take a step forward, we need to start asking ourselves why not? What do we have to lose? Who cares? What's the worst that could happen, we learn? When it comes down to it, we have no chance of winning if we don't "buy the ticket" or "play the game."
Let me just say, some of my favorite experiences have come from just simply taking a chance.
By making crazy, audacious goals like saying - I want to start an internet marketing business, with no experience whatsoever in running a company - I took a leap. I jumped in and found others who I could learn from along the way.
There were bumps and will still be bumps along the road, but I'm now able to show-up and serve others with what I was able to achieve and learn throughout the journey.
Again, crazy audacious me… I decided I wanted to apply to NASA for their State of NASA Social Address. When I saw the opportunity I thought, A) this is freakin cool and B) there is no way I'm going to get this spot.
Yet, what was the worst that could happen, they say no. I "bought the ticket." I filled out the form and lo-and-behold, on February 2, 2018, I received confirmation saying I was 1 of 22 who were selected to participate in the State of NASA Address.
As a member of their social media team, I had the privilege to report on all the things that were happening during the event. I was working alongside leading marketers who were on top of their game… like the marketer from Kickstarter who had way more accolades than me and also alongside a mommy-blogger who was probably feeling the same way about all of us in that room. I'm pretty sure each of us were looking around wondering how in the heck we got selected.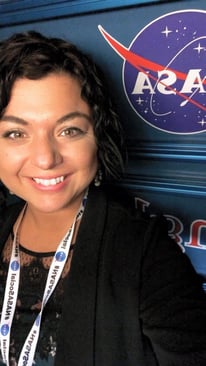 This, thus far, has been one of the coolest experiences that has happened to me in business. Touring the NASA headquarters and seeing behind-the-scenes what it took to run their programs and what their plans were for space exploration, first-hand, all happened because I simply applied. At the end of the day, the 22 were the ones who chose to play the game. Ask to be put in.
Riding the high of "why not" later that same year, I stepped into a life-changing experience by being selected to participate in an entrepreneur leadership development program called Unconventional Life in Bali. As one of only 99 from around the world, I learned how to up-level and align my goals with my passions and highest intent. I was able to learn from others and was able to share my experiences and be a guide as well. I was in one of the most beautiful places in the world, learning from some of the brightest minds, all because I simply said "Why Not Me."
"Watch your thoughts, they become your words; watch your words, they become your actions; watch your actions, they become your habits; watch your habits, they become your character; watch your character, it becomes your destiny." -Lao Tzu
Lesson Learned:
There is power in your thoughts.
What if we stopped living in fear and turned that fear into excitement? Replace that fear with excitement and tell yourself that everything is rigged in your favor. Instead of the negative "what if's," get excited about the potential of it happening.
3. The top earners are learners!
Time is one of your most precious assets, but your most valuable asset… above all else... trumping whatever it is that you think is your greatest… is your mind. Plain and simple. Investing in personal development and staying "uncomfortable" is going to keep you on top of your game.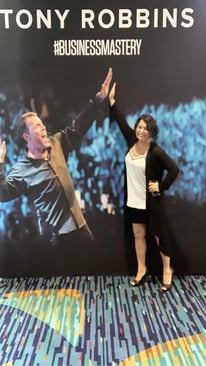 The second you're comfortable and are feeling pretty good about yourself, I promise you there will be an inevitable shift.
For me, it became all about learning how others became masters of their craft and what their journey had been. I did a little self-investment and took a deep dive and jumped into Tony Robbins' Business Mastery. It was the perfect mixture of lessons to strengthen me as a leader mentally, physically and spiritually.
One of my most favorite takeaways from the experience was…
"Masters don't dabble, they become obsessed with a goal and keep showing up to reach it." -Tony Robbins
I love that quote/mindset because how we show-up and continue to show-up is truly what sets those stellar performers apart from the pack.
(Here are plenty of other Tony Robbins take-aways, wrapped up in a tidy little blog for you to check out)
I'm a reader. I read and consume most anything I can get my hands on. And it seems to never fail… it feels like the last book I read ends up being the topic of conversation elsewhere and (willingly) am invited to join into the dialogue, it's uncanny really. Maybe it's the power of suggestion or what, but somehow the universe seems to put me in the right place at the right time to add my thoughts to the chat.
Why is this important? Just hang with me for a moment...
There's an Albert Einstein quote I've always loved >>> "Learn the rules of the game and play it better than anyone else."
Sure, life isn't a game, but we do only get one shot at life. We can either take action… or sit on the sidelines. It's up to you.
I used to think I was destined to be a spectator. I came from a small town. I didn't have financial advantages. I didn't have the "talent" others around me had. I had all of these self-imposed, perceived disadvantages that were limiting my potential. I unknowingly wasn't doing myself any favors.
**Sub-lesson learned > none, absolutely none, of these things - among the others I laid upon myself - were disadvantages.
It wasn't until I started to build myself, to grow and to learn, that I realized that money didn't matter, the size of your town doesn't project your worth… and talent, talent is subjective. The money will come. Small towns rock and talent can be developed. We are only limited by our awareness and our knowledge of how something works.
I had my aha! It was during this realization that I became hungry for knowledge. Obsessed with consuming as much information as I could as it related to social media and business development and entrepreneurship and leadership and, and, and.... While I was putting myself into situations that were optimal for technical growth, I was also learning about mindset and the scripts that run through our subconscious.
Those that not only predict, but dictate our outcomes. It was in that process that I learned how to reframe and reprogram them - essentially to get out of my own way and create a path to success. Unencumbered by insecurities and self-doubt.
Lesson Learned:
You never know who is going to cross your path and when.
Closing the circle on my reference to the book conversation above.You never know who is going to cross your path and when. You never know what opportunities are going to be presented to you and when. Sharpening your sword and keeping on top of the proverbial game will keep you aligned with the opportunities you are now allowing yourself to be open to receiving.
4. Growth isn't comfortable - get comfortable with being uncomfortable.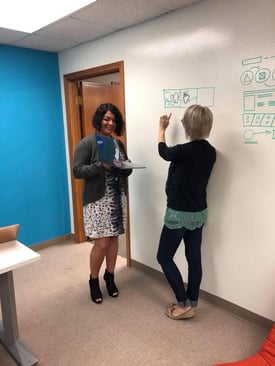 Growth isn't easy. It would be cool if we just woke up super-awesome at life, but unfortunately, that magic doesn't happen. Which leads me to kick off lesson number five with a quote and a story. Let me put the quote in front of you first...
"One can choose to go back toward safety or forward toward growth. Growth must be chosen again and again; fear must be overcome again and again." - Abraham Maslow
That's a good one, isn't it?! Digest that a little while I jump into my story.
In 2019, I boarded a plane for Colorado for businesses. When traveling, I like to upgrade to First Class. (I'm not bougie, but I like to upgrade so I can work on the flight comfortably) I settled into my seat, readied what I was planning on tackling during the flight and noticed a young family in front of me. Mom and Dad were trying to comfort an anxious little guy who was earning his wings on this 5-hour flight - as this was going to be his first time on an airplane.
The mother was clearly feeling empathy toward her son's nervousness and stood up as the airplane was boarding to see who would be assigned to the seat next to her son. Once it was clear who the seat companion was, and he started to pop his bags into the upper storage compartment, she quickly tapped him on the shoulder and asked if he would be willing to change seats from his aisle to her window seat so she could sit next to her son.
The gentleman kindly replied that he would not like to switch spots with either the mother or father as the seat he purchased was one he enjoyed and he sat down un-phased and confident in his decision… Placed his earbuds in and that was that. The son looked back at the mother, this time with an uncertainty of her rescuing him in his eyes.
Meanwhile, I could feel myself wanting to jump in and immediately offer a solution because I honestly couldn't believe the man denied this mother's (in my mind) simple request. I assumed any human being with a heart would be more than willing to jump in to "save the day" so to speak.
As the son looked back to his mom, I could see her face turning red. You could read the tone of the mom's face immediately as it was quickly mirrored by the words she uttered, "what kind of selfish person doesn't want to help a child?"
By this point, my Mama Bear woke up. I 100% could relate to this mother, I'd do the same - jump in to save my children from any uneasiness or discomfort. I can say with confidence that I've been identified as a helicopter mom more than once, but I digress. I quickly came up with a plan of my own. I was going to save this mother and her child.
As soon as the passenger who was assigned to sit next to me arrived, I had a chat. I explained what I had overheard and asked if he would be willing for both of us to swap seats with Mom and kiddo so they could sit next to each other. I mean, it's simple really - the son was uncomfortable with his situation and we could fix it, right?
As my friendly faced middle-aged male neighboring passenger listened attentively then looked at the mother and her son he turned back to me and said, "Well, I would, but look, I'm a father too and that boy looks to be about 8 years old and this will be good for him. If this is his first flight, we should let him fly it out and experience it for himself. He'll be ok, just watch."
Now I was in shock! Two men both unwilling to help this poor mother! "What kind of world do we live in" I thought? The outrage!! The plane took off and the mother said a few smart remarks during the first 5 minutes, then the rest of the flight was quiet.
I buried myself into my work and as the wheels hit the tarmac, I had forgotten about that "crisis" earlier. When the passengers started to disembark my attention went to the boy who jumped up in front of my row to grab his bag, turned around to his mom and said- " that wasn't so bad! I like flying!" His face was lit up and confident. The mother smiled and followed her son off the plane.
My "neighbor" looked back at me and smiled - he didn't have to say a thing because I knew he was right all along and had it not been for his "no", the boy wouldn't have been able to experience the level of uncomfortable growth that led to his confidence just 5 hours later.
Lesson Learned:
We can't rely on anyone to save us.
We must sit in the uncomfortable moments to grow. Sometimes the most loving thing we can do for ourselves and others is to take the first flight alone so we can grow into the braver, more confident and well-rounded person we're intended to be. We have to choose growth again and again.
5. There are two types of leaders - transformational and transactional leaders
We live in an amazing age where people are encouraged to take a step out of the familiar, out of their own way… and into their fullest potential. Building their skills. Cultivating their talent. Growing into leaders.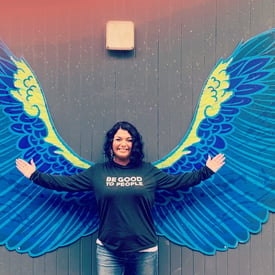 Leadership style is something that is completely personal. We can take notes from the "greats," but when it comes down to it, it's something that's "forged through the fire" so to speak. It's developed by doing, by the team or followers you lead. And if you ask any great leader who or what was their greatest teacher… they'll tell you it was probably a hiccup they had to work through or a failure along the way. Lessons learned right!
So I screwed up. I'm sure you can relate - you have moments where you think you're doing the right thing as a leader, but then realize you were all wrong. >> Hand Raise.
While there are all types of leadership styles, fundamentally, I believe there are ultimately two standouts - Transactional and Transformational. So what are the differences?
Transactional leaders are focused on tasks and output-only. Worth and value is seen through a check-list. Whereas Transformational leaders are focused on helping their team grow and evolve and to do MORE with that output.
"Leadership is unlocking people's potential to become better." -Bill Bradley
Okay, how did I "screw-up?"
I am always trying to encourage my team to learn and grow. We even have paid incentives for book challenges and training courses. As a habitual learner I've imparted that desire for knowledge to my team. Yet, when it comes to real-life application, I'm a fixer. I invest so much into giving my team the tools and resources they need, that when it comes down to putting it into action, instead of letting them work through a challenge, I would jump in and offer solutions for them.
Rather than push back and challenge THEM to solve the problem I thought by offering a guide I was helping. Turns out, I was hurting. By solving the problem for my team or sharing the answer doesn't give them the chance to learn and find it for themselves. By taking away their momentary discomfort, I was also taking away an important learning opportunity for them. I was unknowingly sabotaging them, and myself in the process.
My AHA >> Growth comes from discomfort. Period.
When you sit in discomfort and solve your own problems, you become a better leader and teammate. I've realized that stepping in was stepping IN THE WAY. Discomfort is a feeling that presents a learning opportunity; when sat with, my team walks away from problems or challenges as better, smarter, more capable leaders.
"My job is not to be easy on people. My job is to take these great people we have and push them and make them even better." -Steve Jobs
How does this work without alienating your team? No one likes a micromanager yet the antithesis isn't good either. There needs to be a balance.
Encourage your team to work through what they're hung up on, reminding them that they are smart, fully capable, leaders and if they absolutely need the help you're there, but try, first. You aren't there to answer all the questions. You are there to guide. It's like being a parent, right? You help your children learn to take their first steps, but they will never learn to walk if you carry them everywhere they want to go.
Lesson Learned:
Growth comes in the doing.
Growth comes in the uncomfortable spot where you're actually figuring it out on your own. Transformational leaders see more than the punch list. They see the potential of a person and work to help them reach that potential and beyond.
6. We teach people how to treat us.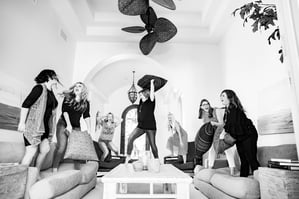 Some call it impostor syndrome. Others, "not being in the clique."
The truth is…
WE are responsible for how others treat us.
WE have 100% control of what we allow in our lives. If we want to rise up, we must let go of what's holding us down.
WE teach people how to treat us.
These truths have led me to realize that there are three types of people in this world. Fakers, takers & makers.
The Makers.
The makers are the people who take control of their life. They are the doers. They get excited about creating opportunities to help, to serve and to provide for others. By using their innate gifts, they make their own destiny, they infuse people with this sense of wanting more and leave them better off than when they found them. Makers show-up for others and live life to the fullest.
Key adjectives of a maker >> integrity-driven, passionate, a builder
The Takers.
The takers show-up too, but only to see what you have for them. They're available at times convenient for them and only tend to hang around just long enough to get what they're looking for. Takers are the people who want to "pick your brain" only to repurpose ideas and pass them off as their own… collecting all they can with the smallest amount of effort.
Unfortunately, I've come across lessons learned with takers within the first five years of business, but have had to relearn it again. We bring people into our lives who do such a great job painting a picture of who they are, that you almost feel guilt when you question their actions.
I've hired this person before, learned my lesson, and then it happened again. My latest experience was working with an individual who had freelanced with my company. I truly saw potential and extended an offer for a full-time salaried position.
Time, energy, training and care was invested into this person and quickly after starting, performance dropped, and the bare minimum was done to be able to collect the paycheck… without doing the work. Personal agendas took precedence over client work.
This is one of the hardest lessons for heart-centered business owners - it's not who you hire, but who you fail to hire that can kill your business.
Key adjectives of a taker >> confident, entitled, manipulative. Honestly, at times, takers can come across as an ally, but their integrity is way out of check
The Fakers.
Oh, the fakers. The smooth talkers. These are the type of people who can say all the right things and show up online one-way, but their actions do not align with the image. It's impossible to keep up a fake façade forever, yet they try. These people will cheat, copy and even attack anyone who threatens the perception.
Key adjectives of a faker >> arrogance which can be initially passed off as confidence (there's a difference), disingenuous, eager to volunteer an excuse rather than a solution
I've learned that while we don't control the actions of others and how other people show up, we can control how we respond.
What we allow is what we will experience. While it's nerve-wracking to call a client, team member or family member on their actions, it's much more detrimental to allow someone to continue to show-up in a way that is hurtful to others. To allow the behavior to continue at our expense, simply because we want to "be nice."
Lesson Learned:
Kindness isn't weakness.
We must find our inner warrior- stand up for ourselves and not be afraid to call this behavior out… in business and in life. In our lives we will outgrow people and behaviors. It's okay to let people go. They say, "if you're the smartest person in the room, you're in the wrong room." We all want to succeed, taking the steps necessary are tough, but to achieve that next level of success we have to make smart choices about those people we let into our lives to join in the journey. Are they aligned with our goals, are they makers or are they takers?
7. Perception is projection
We've all heard the Henry Ford quote...
"Whether you think you can or can't, you're right."
The same can be said about what we think about and where we focus...
"Where attention goes, energy flows." -Tony Robbins.
There is a Facebook post I've seen, where a train is shown going one way with the caption stating: your brain has the power to change the direction of this train. Just THINK and the train runs in the opposite direction. And sure enough, it appears to switch directions.
Who remembers the blue dress/gold dress debate of 2015? Some saw a blue and black dress while others saw it as gold. We all see things differently and how we PERCEIVE what we're seeing affects what we project.
Perception is Projection… meaning how we look at things is what is ultimately going to be our truth.
This is certainly the case in business. If we are hesitant to work with a client because we perceive they are going to be a challenge, then yes, they will be a challenge. If we believe a team member isn't capable of performing a task at hand, then chances are, they won't. Whatever we perceive to be true is going to be projected back at us.
The cool thing about it is, whatever we perceive to be true is going to be projected back to us.
We first have to get our thoughts in order. Defining...
Who we want to work with - both clients and team members
What kind of environment do we want to work in
What is our mindset
What do we perceive to be true in all areas of our business, our life, our relationships, our goals and really at the core our own self worth - what we're capable of because our perception is our projection.
During the early years of my business, I found I was repeating myself again and again. It was like my brain was on autopilot where, because I knew what was going to be true, I was just predicting the outcome of a situation.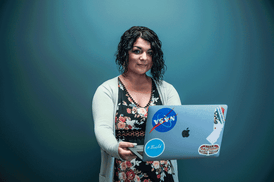 I needed to stop and ask myself - why is my team having the same issues again and again or why am I coming up against the same mistakes repeatedly. The reality was, I perceived it to be true so I projected it.
It's about reframing situations and thinking about how you can take a different approach. It's taking a look at a situation from another angle to see what could be done differently; how you can attack a situation in a way that projects confidence in that the outcome will be positive. Because when I perceive an outcome is going to be done in a positive way, then that is what I'm going to project.
Perception is projection isn't just a statement, it's a proven method or behavior. Diving into NLP (Neuro-linguistic Programming) certifications I learned...
"We tend to take our most unconscious material and project it on people and events around us." -Carl Jung.
Through the NLP training process I started reframing my thought process with the perception that for every client we worked with, we knew exactly how to help them get to their goals. That every team member brought on, was going to achieve a crazy, successful outcome. I set that standard for them, to challenge them to grow more and to do more, because I truly believed they could. I believed it and so did the team members… and with this mindset shift, we started a culture shift like never before. Truly started uniting as a team. Their perception was that projection and that projection is what attracted our tribe.
Our clients are happy, our team members are happy and we're part of a community that helps us grow organically.
We were able to fulfill our mission and continue to fulfill our mission to love more, give more and be more - because I truly feel that's the only way to authentically connect with others - and build relationships that will continue to grow repeat and referral business.
"There are two ways of spreading light: to be the candle or the mirror that reflects it." -Edith Wharton
Lesson Learned:
By choosing to reflect the light you are helping others to shine, helping them to see what it is inside of them to help us all grow in momentum.
To not only grow ourselves, but each other, our community, our clients and at the end of the day… our mission.
8. Self care isn't selfish. Our pain turns into our purpose.
As business owners, we are faced with hard truths on the daily and even tougher yet, lies we tend to tell ourselves.
One of those standout falsehoods >> To be a good business owner, we can't turn ourselves off. That the business always comes first. Our people come first.
Before you jump and scream well, hell, that's a pretty selfish thing to say. Let me elaborate.
If we aren't careful, by constantly being "on," we can get into a pretty reactive state where we are only existing to put out fires. We can find ourselves in this constant fight or flight mode of business where you're operating from a place of stress and anxiety to the point where you can't think creatively.We lose the ability to innovate the business when this is the place we're operating from. It's like survival mode.
Running in a reactive state doesn't allow you to see things which would otherwise be clear - your brain is so focused on just "making it through."
How many times during the day do you find yourself repeating - If I can just get through today/this project/this month, then things will be better/I'll have the time/I'll focus on XYZ?
By not allowing ourselves the time to make sure YOU are "good," you're not allowing yourself to dig deep into how you're going to grow or level-up your business.
You're going to be stuck at surface level.
There's a line from Top Gun, and if you're a child of the 80s you know it's a classic… but the line goes, "I'm holding on too tight, I've lost the edge."
Okay great, but how does that translate… I see it as, if you get into a point where you can't let go, you can't get out of the weeds, you lose your ability to maintain that innovative/creative momentum. You lose your edge.
This lie we tell ourselves as business owners - that we're there to protect and defend and if we pause and take a moment for ourselves things will fall through the cracks - ultimately hurts what we're trying so hard to protect.
Self-care isn't selfish. We absolutely have to take time to get into a routine and make sure we're having those pause moments to breath, gain inspiration and to provide clarity and peace and feel really good.
At the end of the day, if you aren't taking these moments because you feel you aren't showing up if you take time for yourself, look ahead to the what-ifs. What happens if you get sick or your health is affected by constantly being on… then what happens?
How do you make a shift and pivot into a self care routine? I read this book - Atomic Habits by James Clear and it's a really great resource for how to start simply. Focusing on small habits to add into your routine which will ultimately make a big impact.
Clear outlined four simple rules to follow to create a framework for creating good habits and breaking those bad ones:
Make it obvious
Make it attractive
Make it easy
Make it satisfying
Take time to break the cycle and start mapping out those small changes using these cues as a guide to put some energy back into YOU. Mental, physical, spiritual and emotional wellbeing are just as important as showing up for your business.
Lesson Learned:
Don't hold on so tight.
Invest in yourself and take those pause moments to meditate or take a vacation or however you find a recharge because it's in those moments where your inspiration comes. Tony Robbins teaches to "invest in the winter." So as you take those pause moments, you'll be comfortable investing in the winter - you'll know where you want to grow and how, because you're showing up from a place of peace and clarity.
9. Finding your voice - being you is your superpower.
As a business owner, or a creator for that matter, we struggle with a sense of "imposter syndrome." It's super easy to look at others and see them as the expert or see the amazing things they're doing while pointing a judgmental finger at ourselves for not having that same "thing" perfected.
It's easy to get consumed with checking out other people's "grass" and forgetting that there are people out there having those same feelings about you.
What we're forgetting to see are our own natural gifts. Because they are innate, they can be overlooked, we didn't struggle or overcome a challenge to have them, they're just there. I think we tend to overcomplicate things sometimes and feel that in order to be successful, the path has to be hard, there has to be this struggle story. It's those innate gifts, those things that come easy, that make us who we are and when we really come to the understanding that our gifts are our intrinsic value, not to be overlooked, we've found our super power.
These are the powers that make us individually awesome and are what elevates us above anyone else. When you start to share those talents with confidence you are able to find value in your own worth.
I will never forget the feeling I had when I started to go to industry conferences. I was surrounded by all of these people I admired and looked up to, I felt that "imposter syndrome."
Thinking why am I here when all of these people have got this on lock. It wasn't until I started feeling my own vibe and putting myself out there to share my gifts, that I was then asked to participate in these conferences with these people I held in such high esteem, as their peer.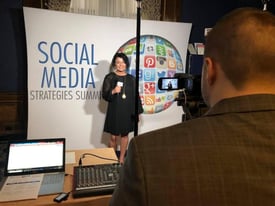 It wasn't until hanging out with all of these people who I admire and getting to a place where I was able to have personal conversations, that they opened up about their own struggles. I was so shocked and surprised. It wasn't until those moments that I realized that we ALL struggle. We ALL can have a difficult time realizing those gifts do have value for others.
It's important to remember that those unique super powers are why people are choosing to work with us, it's because of who we are. I say it all the time at NOW Marketing Group… people don't hire us to do the work, they hire us for the ideas and really better said, they hire us for how we're making them feel.
When we show-up as this magnet, truly clear with who we are and confident and comfortable with our gifts, we're able to serve in a way that is attractive to our tribe.
I'd really like to highlight being COMFORTABLE with our gifts. As we take time to learn, and to train and to constantly improve upon our craft we're able to show up and add value. Perfection isn't attainable so that should never be a goal, but refining our talents so we can be better, be more, for our clients is what's foundational for building our community.
Lesson Learned:
Authentically, unapologetically being YOU is your super power.
No one else can mimic that. No one else can do what you do in the way that you do it. So remember that people aren't hiring you for what you do, it's how you do it… our message and how we show-up is way bigger than any product or service. Don't expect to be someone else. Be you. Be comfortable in it. Own it.
10. Relationships will always be more powerful than marketing.
The most powerful lesson I've learned in business is that relationships will ALWAYS be more powerful than marketing.
Relationships are truly the best currency in business, they're legit... everything. It breaks down to relationship ROI - you're going to get back what you invest in others.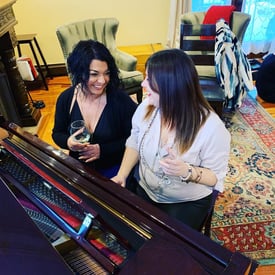 You must invest your time, and truly look at it as an investment and not from the vantage point of "what am I going to get out of this relationship." If you want to kill a relationship before it starts, go ahead and approach it with a me-first mindset and see what happens.
Building relationships within your community you want to ideal turn your team into your biggest evangelists, and that starts with culture. Which I'll dig into in a moment.
You want to rally your clients into your most passionate advocates. Clients, and team members for the matter, are expecting us to do what we say we're going to do. Their level of trust in you is built from you showing up and investing in that tribe in a way that resonates with how THEY want to connect.
Showing up to serve them in a way that is attractive to them is how they are going to see value in what you do and REFER you onto their tribe. (When I reference going wide, this is what I mean.) I want to dig deep with the clients that I can really serve, because they're the ones who can then help me go wide - and reach out to serve others who are aligned.
I mentioned creating evangelists from your team members through culture. This is crazy important. Let me start by telling you what culture ISN'T. It isn't the carefully curated boomerang of a lunch break ping pong match or the carousel of super sweet swaggy office photos shared on your Instagram. Those are fun. Fun is fine, but it isn't the full picture.
Culture is the core personality of your brand… BEHIND closed doors, in-person, as well as those on public facing channels.
Culture is the heart of your brand and it starts from the inside out.
Who you are and what you truly believe in will set the tone of your environment, your policies, and how you engage. It becomes the lens to which your team, clients and community view you and is the basis for judgement of what experience they can expect.
Setting that expectation by embracing a culture of delight versus the "old school" my way or the highway, task-based, production-only mindset will help you turn that team into evangelists.
When you chose to lead your business with a relationships-first priority, your team, your clients, your community, will be a powerful force to drive your business.
You build that relationship ROI when you're aligning with those who are your "hell yes," the people who love what you stand for and love what you believe in. You build that ROI by showing up authentically and connecting with those people because you're not coming from a place of "what I can get out of it," but really because those are "my people" who you truly want to build a community with. That trusted community now becomes your collaborators.
Lesson Learned:
It's time to make business, personal.
I never could understand the line - it's not personal, it's business. It's time to put the human component back into the way we do business. Turning our followers into true fans, our clients into our advocates our team members into our evangelists and our community into our collaborators. The death of the traditional "corporate culture" model and prioritizing a heart-centered culture will truly reinforce my statement that relationships are more powerful than marketing. I hang my hat on that mantra and in doing so, my "hell yes" people, my tribe, are so much more valuable to me personally and professionally than any other business strategy out there.
---
10 years in business can feel like ages and minutes all at the same time.
There have been tears and struggles and challenges and happiness and amazing moments and wonderful people and powerful relationships and experiences unlike any other, because of those 10 years.
There are so many more lessons I've learned throughout my time building and growing my business, and in all transparency, I'm glad my path wasn't all smooth sailing.
Those bumps along the road have helped shape the agency into what it is today and these lessons have helped mold me into a better woman, leader, mother, friend and business owner.
I know I'm not finished learning yet… there is still plenty more room to grow. I'm excited to see what this next level and what these new chapters will bring.
Thank you for being part of my journey. Cheers to many more years and new moments to share.
In the spirit of learning, what are some of your most resonating moments that have helped define who you are, or how you do business?
I've love to continue the conversation, share in the comments so we can connect.